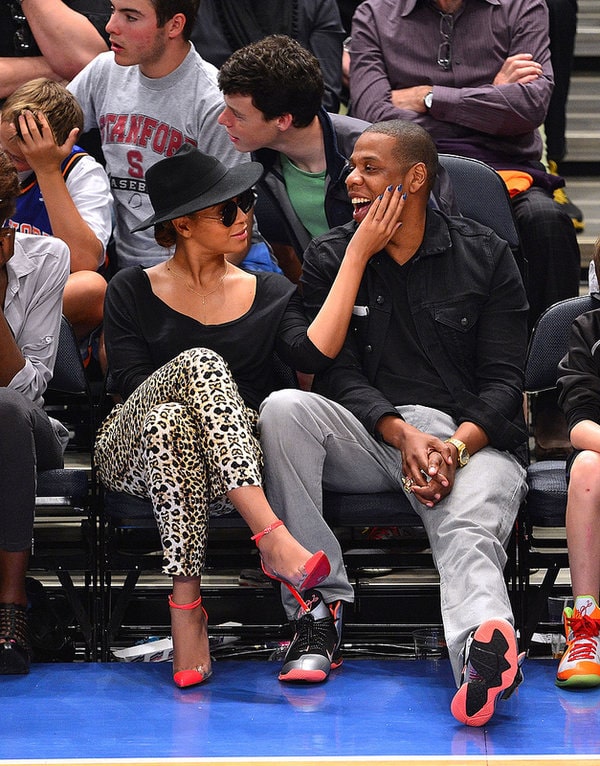 Do some famous couples know something about relationships we don't?
Famous couples have it going on.  They're beautiful, they're powerful, and they're important.  We know about their dramas as if we are living their lives: the pangs, the mess, the cheating, and the almost-divorces.
We are constantly "in like" with these tabloid fixtures because we're being bombarded with saucy details about their breakdowns.  However, we tend to forget about the quiet couples, the ones who don't publicise their problems under vindictive one-liners like "Kristen S is a lesbian now?  Ex Robert P's Tales of Betrayal" or "Taylor S is Out with the Old and In with the New.  Again."
Beyonce and Jay-Z
Let's digress from the ruined famous couples, and consider a famous couple that we like to read about and see their happy pictures.  Take Beyonce and Jay-Z for instance.  The singer Beyonce and rapper Jay-Z dated since 2002, they've been married since 2008, and are now proud parents of their first child, Blue Ivy Carter, since 2012.  When they co-headline tours, sales go up by 44% in North America.  The two are committed to their own privacy, but their candid moments of PDA (public display of affection) still garner lots of positive attention, with descriptions like "never fail to melt our hearts".
What does it take for a man and a woman to complement each other so well for such a long time?  This famous couple became a staple in the American music industry, partly because they work in the same field.  The two are also keen on attributing their successes to one another.  You might think that those award ceremony speeches are cheeky and staged, but public recognition is important to stay united.
Relationship tip: Maybe the next time you're out with your beloved, you don't want to make a nice gesture for granted.  A simple "thank you" could be an infectious action.   It is showing that you liked what your partner did just now and that you want to see more of it.
 John Lennon and Yoko Ono
Another famous couple who inspires generations of people to love and be loved is John Lennon and Yoko Ono.  The Beatles founding member met the avant-garde Japanese artist and claims that he "didn't really know about love" until he met her.  The two married in 1969 and led a public happy marriage until John was shot and murdered in 1980.
John and Yoko are the kind of famous couple with lots of speculation and debate surrounding the two.  For one thing, Yoko ended John's first marriage.  It's also unclear whether or not she split the Beatles by distracting her husband.  What we do know, is that the two fought for non-violence together.  The musician-and-a artist-turned-activists advocated for peace through unheard-of methods such as bed-ins and stage performances.  John Lennon and Yoko Ono fed each other's passions and supported one another while maintaining the same vision of solidarity.  Their long-term goals really sustained their long-term relationship.
Relationship tip: Have you ever discussed the bigger picture with your partner?  Make sure your values are in check and that the two of you agree on global and local issues.  It can be frustrating to feel like you can't really make a difference in a world full of turmoil, but it's nice to be on the same page with someone you're close.  Yoko and John were the kind of couple who regarded one another with kindness and shared long-term goals.
Bill and Hillary Clinton
Is it possible though to stay engaged with a partner because of such long-term goals?  Which came first, the compatibility or the understanding of one another's aspirations?  Take Bill and Hillary Rodham Clinton, former president and first lady of the United States of America.
This political couple started dating in 1971 and have been married since 1975.  Hillary continues to make appearances by Bill's side as a presidential candidate, and Bill speaks on Hillary's behalf at Democratic conferences and council meetings.  Despite the internationally outrageous "Monica Lewinsky scandal," the couple reconciled and fiercely protect one another's ambitions.
Oddly enough, the public image of Hillary became sympathetic, and she's been dubbed the stronger half of the relationship.  There is no way to know what the real deal is in these situations for famous couples- yet alone politically powerful famous couples.  However, the scenario of a victim turned merciful, and later powerful, makes for a great story.  The two are living proof that public scrutiny can be overcome.  Perhaps Hillary Rodham-Clinton will even become the first female American president, or at least continue to be the inspiration for more female political action.
Relationship tip: Are you a fierce advocate and supporter of your partner, no matter what happens? Make sure you always back your partner through the good times and bad.
Do you need relationship help?
If you need help with your relationship, contact Clinton Power + Associates on (02) 8968 9323 to discuss your situation and find out how we can help.
photo credit: skw234567
Since 2003, Clinton Power has helped thousands of couples and individuals as a counsellor and psychotherapist in private practice in Sydney and online in Australia. Clinton regularly comments in the media on issues of relationships and has appeared on Channel 7, The Sydney Morning Herald, and ABC Radio. Clinton's eBook, 31 Days to Build a Better Relationship is available through his website or Amazon. Click here to take Clinton's relationship checkup quiz to find out how well you know your partner.