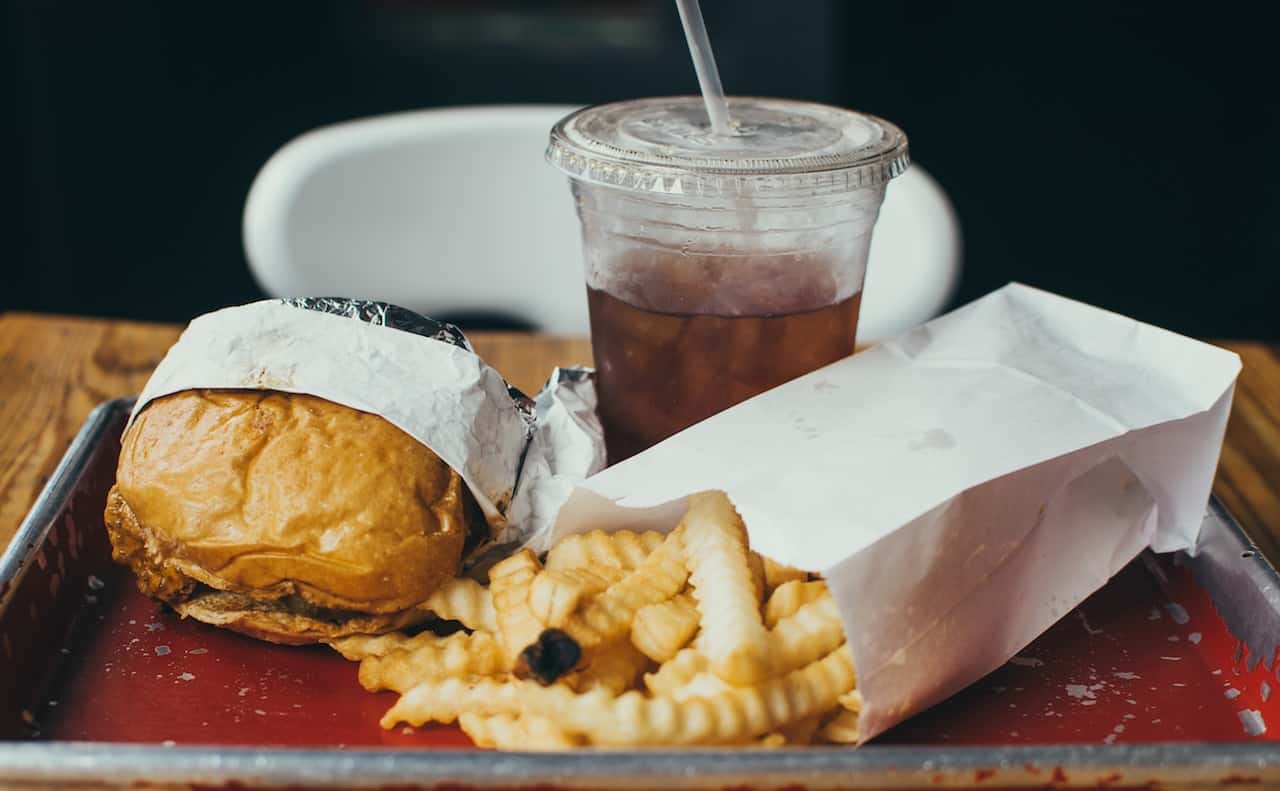 Have you noticed the modern phenomena in some long-term relationships when one or both partners start to 'let themselves go' by putting on weight or not caring about their health or fitness?
With 60% of Australians now overweight or obese, it's no surprise it's become so common.
I was recently interviewed by Talking Lifestyle Daily Drive Show about this issue. Some of the questions I answered included:
Why is it so common that partners 'let themselves go' in a relationship?
What's the impact on your relationship when you 'let yourself go'?
What are the best strategies for addressing the issue with your overweight partner?
Click the audio player below to listen to the interview or read the transcript below.
Transcript:
Nick:  Marriage seems to create the perfect conditions for weight gain. Husbands and wives simply let themselves go. That's it. It becomes a big hassle in the relationship, because you think, "Gee, that person that got married's quite different now. Very, very different." You become the elephant in the room, literally.
What can be done about it? How can it be avoided? If it happens, what's the best way to deal with LYG? Letting yourself go. Have you let yourself go and how did it happen? When did you sort of start, maybe stop, caring about yourself?
Sam:  Yeah. Has your partner let themselves go? How did it make you feel? Give us a call. This is a safe space. No judging here, so we'd love to talk to you about it. Clinton Power is a clinical relationship counsellor. He helps couples deal with all kinds of issues and he joins us on the Daily Drive. G'day Clinton.
Clinton Power:  Nick and Sam. How are you?
Sam:  Very well.
Nick:  Good mate. Welcome to the show. Now, this is a big problem. Happens to a lot of folks. You're in love. You get married. You have kids. Lots of energy goes into them. Within a few years, you've let yourself go. You've got weeds in your patch. Why do you think this happens?
Clinton Power:  I think there are so many reasons why this happens. I mean, for a start, we know that 50% of Australians now are classified as overweight or obese, which is just an extraordinary statistic when you think about it. I think there are factors like stress. You know, people are feeling increasing work pressures, their using alcohol, and emotional eating. They're kind of soothing, which food and alcohol would comfort the stress.
Having kids is a huge one. You've got no time to exercise. There's a change of routine. Suddenly you're awake four times a night. I also think we've got a more sedentary lifestyle now. We spend hours and hours sitting in front of computers. We're not active enough. As we get older, our bodies do change as well.
Nick:  Physical appearance is very important in a relationship, isn't it? Being married is no excuse to give up on making yourself look the best, is it?
Clinton Power:  Absolutely not, because we want to maintain that desire and attraction for our partners, a very important part of the chemistry. If you let yourself go, you can risk actually your partner beginning to feel less attracted to you, which can certainly have a knock-on effect. You're going to have less sex. Your partner's not going to be intimate with you. That's a major problem for many couples.
Sam:  So, I think part of the problem is the nature of the issue. It's sensitive. Nobody wants to confront their partner and tell them that they've put on some weight and you've got problems with attraction. Is this why it can get out of control because people are reluctant to deal with it early?
Clinton Power:  I think so. That's a major problem, not just with this issue, but many, many different issues. People leave issues too late. In fact, even when it comes to couples therapy, we know that the average couple waits 6 years before they even seek help. People are willing to put up avoiding conflict and kind of suffering in silence for a long time.
If you can start to raise these issues early, it really will make a difference. I often encourage people to, you know, use what I call the soft startup. Don't attack, or criticise your partner. Don't kind of, throw grenades at them, but really, gently introduce the topic or the issue, as a starting point. Kind of set the scene, so they can see what your concerns are.
Nick:  It's very important that we all look for the best in people, isn't it.
Clinton Power:  I believe so. I mean, it's the foundation of any secure functioning relationship. We have to think of our partner as being on the same team. You've got each other's back. You're kind of in the 'fox hole' together. You don't public things in public or private to hurt each other. I think if you can take that approach when it comes to raising some of these difficult issues, you'll get much better outcomes.
Sam:  So, when you are in a relationship, you're in this together. 100% from both of you. You strive to be financially healthy. You work really hard to put a roof over your kid's head. You raise them to be well-adjusted, and happy children. Why do your weight and your physical condition fall down on the list of priorities? Why isn't it right up there with all those other important things?
Clinton Power:  I think what happens for a lot of couples, particularly those that have children, or young families getting bigger, is their priorities change. What happens is they start putting things like … This is a great irony, isn't it. I hear about couples all the time, driving their kids all over the city, to go to sporting games, but then they sit on the side of the field and they're not doing any exercise. You know, that's a major problem. The kids' priorities start getting pushed up. Personal priorities like fitness, and exercise start getting relegated further down the list.
Nick:  Yeah.
Clinton Power:  And then you're own health starts to suffer.
Nick:  There are some practical things you can do. I'm sure you've got great suggestions. If you are that person, who's taken the kids to a soccer game and you're sitting on the sideline, can't we all just kind of get up and start walking around the oval and observing, or maybe like I did today. The car had to be serviced. Instead of getting a cab up to the village to get my hair cut, I walked up. The round trip gave me five and a half kilometers of walking time.
Clinton Power:  Absolutely. Yes. Then, you have to take the stairs instead of the lift. I'll also say, "Now use your partnership with your partner, because you can keep each other accountable." You know, you can exercise together for accountability and motivation. That's going to be fun. This can also be quality time that you spend and connect with your partner at the same time, improving your health.
Sam:  It's a short back and sides, by the way, for anyone wondering about Nick's new haircut. Classic short, back and sides.
Nick:  Yeah. I'm joining the army mate.
Sam:  Clinton, here's one for you though. This, I think is the attitude of a lot of people, possibly more so in men. Hear me out. They know they're married. They know they've got children. They're providing for the huge mortgage. In the back of their minds, do they think, "She's not gonna leave me. My wife's not going anywhere. What's it matter if I have some seconds, or a couple more beers, or some more ice cream?" Is there a conscious element to this, where you think, "I'm safe now. I'm locked down. I'm sweet. I can blow out a bit."
Clinton Power:  I think they can be. I mean, it just doesn't have to do with weight and exercise. It can flow across to many different issues. They're sense of complacency … You know, I can take my partner for granted. They're not really going to care. They're always going to be there for me. It's a dangerous attitude because you can have a negative impact on a relationship in the long term. I often see couples that treat their friends better than they treat each other.
Nick:  Yeah.
Clinton Power:  Yeah. How does that come about, that we get in these loving, long-term committed relationships and what couple do to each other, I think, no one would do that to their best friend, and your best friend wouldn't put up with it either.
Nick:  Actually, that's interesting. It just sparked me to think about what's happening, and talking tech later tonight. There's some AI, which can now predict how long your relationship can last, based on how you communicate with your partner.
Sam:  Wow.
Nick:  The machines won. Look, beyond all of this stuff about making your partner feel like, you know, you're unattractive to them anymore, what about simply keeping healthy?
Clinton Power:  Absolutely.
Nick:  It's important to keep that, you know, front and center, isn't it. If you let yourself go too much, you're at risk of maybe heart disease, or a stroke, if you're a bit older. I mean, that's gotta be first and foremost. You got to love for yourself, don't you? You can't love someone else unless you love yourself.
Clinton Power:  I think it has to start with yourself, but also you can show your love for each other in supporting each other's health. This is the wonderful thing about being in a relationship is, you can really be there for each other. You know, if you are feeling concerned about your partner's weight. Bring it up, but share it in a loving way.
Nick:  Yeah.
Clinton Power:  Don't criticise. Don't attack, but you know, bring it up in a loving way. Share your concerns and your worries. Let them know what could they do that would help you feel better. If you are bringing the issue up again and again and you're not making any headway, you do have to let it go at some point. You can't keep returning again and again if your partner's not willing to change.
Nick:  Relationship counsellor, Clinton Power. Thank you so much. Have a good, skinny weekend.
Clinton Power:  Thanks guys.
Nick:  See ya mate.
Do you need relationship help?
If you need relationship help, contact Clinton Power + Associates for a FREE 15-minute phone consultation to discuss your situation and find out how we can help. Call us now on (02) 8968 9323 or book your free phone consult online.
Since 2003, Clinton Power has helped thousands of couples and individuals as a counsellor and psychotherapist in private practice in Sydney and online in Australia. Clinton regularly comments in the media on issues of relationships and has appeared on Channel 7, The Sydney Morning Herald, and ABC Radio. Clinton's eBook, 31 Days to Build a Better Relationship is available through his website or Amazon. Click here to take Clinton's relationship checkup quiz to find out how well you know your partner.