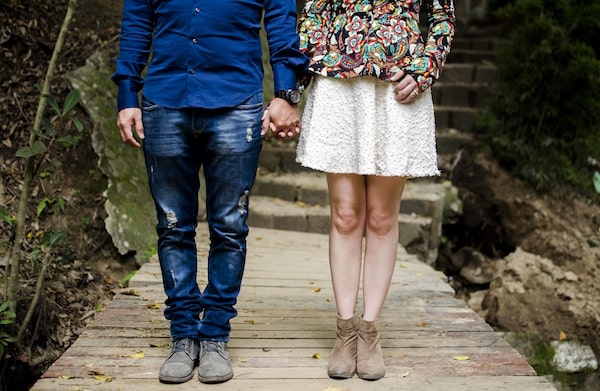 I was recently interviewed by the well-known online dating site eHarmony. They asked me the question, "how do you know if you're in the right relationship?"
This got me thinking, what is the 'right' relationship, and is there such a thing? And even if there is, how can you tell if you're in one?
What is the 'right' relationship?
The 'right' relationship is one where you feel your needs are being met, and you're able to meet the needs of your partner. A good relationship will meet your primary needs for love, affection, security, and safety.
One caveat here. The reality is it's just not possible for one person to meet all your needs in a relationship. So don't expect that person exists otherwise you're setting yourself up for disappointment.
This is why it's important to have people in your life that can meet your other needs that may not be core to your relationship.
What are 3 signs you're in the right relationship?
There are many factors that indicate a relationship is good for you. Some of the more important signs you're in the right relationship include:
True mutuality: All decisions and actions that are made in the relationship benefit both parties. You are each other's 'go-to' person for all important matters.
Safety and security: You both protect the safety and security of the relationship at all costs and seek to repair any upsets or disagreements quickly.
Kindness and respect: You treat each other with kindness, care and never do anything to harm your partner in public or private.
Of course, there are many other signs that a relationship is healthy, but these are essential for a long-lasting relationship.
What does the right relationship FEEL like?
The right relationship should feel positive, mutual, loving, respectful, and enjoyable. In the early stages of a relationship, it is common to have feelings of excitement, even euphoria.
As the honeymoon stage of the relationship comes to an end the excitement and euphoria can tend to dissipate, but this makes room for the development of a deeper, more mature love for one another.
Don't confuse feelings of lust as an indicator that a relationship is right for you. It takes some time to get to know someone and the initial lust you feel may not be a predictor that your new love has the potential to turn into a long-term relationship.
What are two signs you're in the wrong relationship?
There are a few signs that your relationship may be wrong for you. If the security and safety of your connection are threatened, compromised, or harmed in any way, this may be a red flag that this relationship is not right for you.
A couple of the big signs include:
You are abused, threatened, harmed or your partner threatens to end the relationship. When the safety or security of yourself or the relationship is threatened, this has long-lasting negative consequences for your relationship. These behaviours are deeply damaging to forming a deep attachment to another person.
You are constantly pursuing your partner who disappears for long periods of time. This often leaves you feeling alone, abandoned, or isolated. Feelings like this are an indicator that your partner is not able to meet your needs for connection, safety, and security.
A note on #2 above: It's a common relationship dynamic when one partner pursues and one partner withdraws, and this is not necessarily a sign the relationship is wrong for you. However, if your partner shuts down, withdraws, or cuts off contact for long periods of time with no communication, then this is a big red flag.
The fact is, relationships are not always easy. There is no such thing as a low-maintenance person or a 100% stress-free relationship. When you look out for some of the signs that you're in the right relationship, there is no guarantee your relationship will work, but there's a much higher chance you will choose a relationship that's good for you in the long run.
Do you need relationship help?
If you need help with your relationship, contact Clinton Power + Associates on (02) 8968 9323 to discuss your situation and find out how we can help.
Since 2003, Clinton Power has helped thousands of couples and individuals as a counsellor and psychotherapist in private practice in Sydney and online in Australia. Clinton regularly comments in the media on issues of relationships and has appeared on Channel 7, The Sydney Morning Herald, and ABC Radio. Clinton's eBook, 31 Days to Build a Better Relationship is available through his website or Amazon. Click here to take Clinton's relationship checkup quiz to find out how well you know your partner.