I'm a big fan of Stan Tatkin, who I recently completed a week-long training with in a therapy called PACT: A Psychobiological Approach to Couple Therapy.
It's a complex name for a powerful way of working with couples. The therapist looks at the attachment style of each partner, considers neurobiology as well as mind and body factors in the couple therapy.
Stan is the author of Wired for Love, Love and War in Intimate Relationships, and the recent audio book Your Brain on Love: The Neurobiology of Healthy Relationships. 
I wrote about Stan's book Wired for Love in an earlier post here.
Stan has come up with his 10 commandments for relationship essentials that beautifully capture the most important factors in healthy relationships.
Check them out below, print them out to remind you and regularly check these commandments to make sure your relationship is staying on track.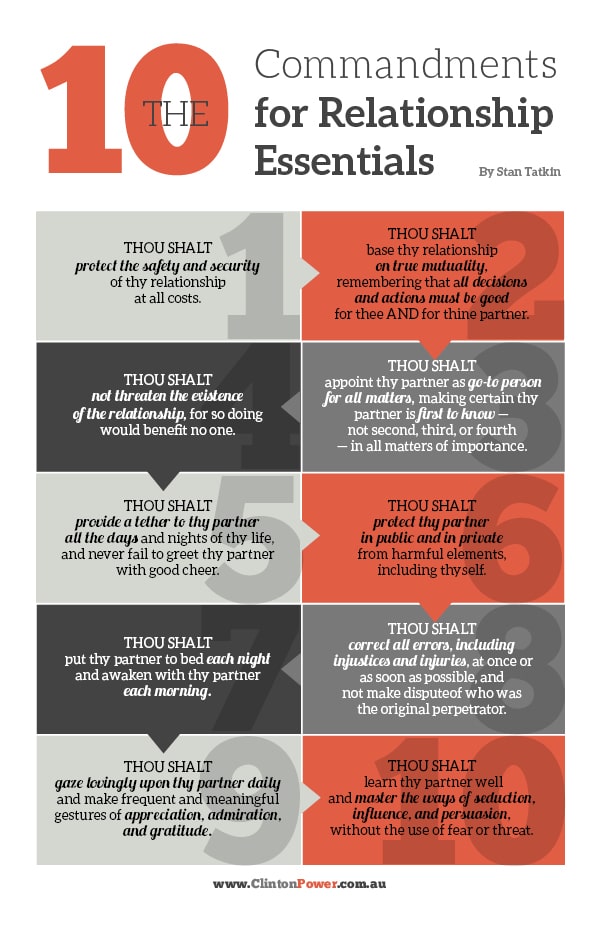 Use the html code below to embed the above image on your own website:
Click here to download a PDF version of this image.
photo credit: chrisinplymouth
* republished with permission from Stan Tatkin.
Do you need relationship help?
If you need relationship help, contact Clinton Power + Associates for a FREE 15-minute phone consultation to discuss your situation and find out how we can help. Call us now on 0412 241 410 or book your free phone consult online.
Clinton Power is a relationship counsellor and Gestalt therapist with over a decade of experience helping individuals and couples move out of relationship pain and create great relationships. Get Clinton's FREE report: 10 Tips for Moving Out of Relationship Pain, by clicking the button below.
Embed This Image On Your Site (copy code below):