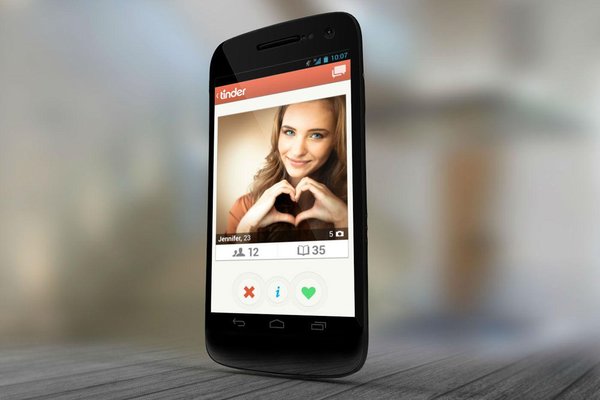 Tinder, the dating app used by 50 million people worldwide, is kind of a mixed bag. Its algorithm creates potential matches via location, then you choose to accept the match or not by swiping right or left. 10 million people use Tinder every day, so your chances of meeting someone, even on the day you sign up, are good.
But your chances of meeting and connecting through Tinder are better if you're young. 45% of users are aged 25-34; 38% are 16-24. 35 to 44-year-olds make up just 13% of the user pool, and 45 to 54-year-olds, 3%. Tinder is wildly popular among millennials (they make up 79% of users worldwide), which is great if you are one, not so much if you're not.
And even though 80% of users say they are looking for long-term relationships, Tinder is more of a hook-up dating app—most of the matches ignited there burn out after a month. 13% of users reported relationships lasting longer than a month.
The pros of Tinder
On the pro side, registration is quick and the customised matches arrive fast—it's got good tech support. Tinder saves time over traditional dating, and even over other dating apps (eHarmony, Match, OKCupid). It's user-friendly and anonymous, and you won't get unwanted emails. It's easy to get a date on Tinder, and any initial rejection is anonymous; if someone "swipes left" on you, you won't know.
But there's some ageism in the pricing. If you're under 30, the basic plan costs $10 a month—if you're over 30, it's $20. Like much of Western culture, Tinder is youth-obsessed: 40% of users rate age as one of the two most important points in a potential partner.
If you're gay or lesbian, Tinder also caters for you to allow you to search for other people looking for same-sex connections. That's a pro for LGBT people.
The cons of Tinder
Once you start dating online, you put your image and basic information on the Internet forever, which raises some privacy concerns. Also, you have to have a Facebook account to use Tinder, which carries its own set of privacy issues. Tinder has been hacked more than once. In 2012 a security flaw exposed users' exact locations for 165 days. In 2015, hackers got thousands of unwitting men to flirt with each other through the app. And in 2017, hackers acquired 40,000 Tinder selfies and used them to make a facial dataset for AI experiments. Sound a little creepy?
Another con of Tinder is that it can encourage compulsive use. Average users spend 35 minutes a day on Tinder. It combines compulsive smartphone use with ego gratification, so if you're vulnerable to either, beware.
The basic plan lets you have a limited number of swipes, so you could potentially go through all available local people without finding a face you like. And that's another issue—there are so many choices in online dating that it's hard to commit to one person. 9% of women aged 18-24 say it's hard to maintain a Tinder relationship because of the overabundance of choices, and 9% of all men agree.
Tinder is appearance-based, and this is tricky too. Anyone can post a fake photo or an old photo, and you won't know until you meet him or her face-to-face. 30% of Tinder users are married, but whether their spouses know they are dating online is another matter. Scammers thrive in online dating pools, so you have to guard your identity on Tinder (or any online dating space). And it's wise, especially for women, to be careful on your first date. Tell a friend where you're going to be and when you expect to be back, and think about using a temporary phone number.
Do you need relationship help?
If you need relationship help, contact Clinton Power + Associates for a FREE phone inquiry call to discuss your situation and find out how we can help. Call us now at (02) 8968 9323 or book your free phone inquiry online.
Since 2003, Clinton Power has helped thousands of couples and individuals as a counsellor and psychotherapist in private practice in Sydney and online in Australia. Clinton regularly comments in the media on issues of relationships and has appeared on Channel 7, The Sydney Morning Herald, and ABC Radio. Clinton's eBook, 31 Days to Build a Better Relationship is available through his website or Amazon. Click here to take Clinton's relationship checkup quiz to find out how well you know your partner.