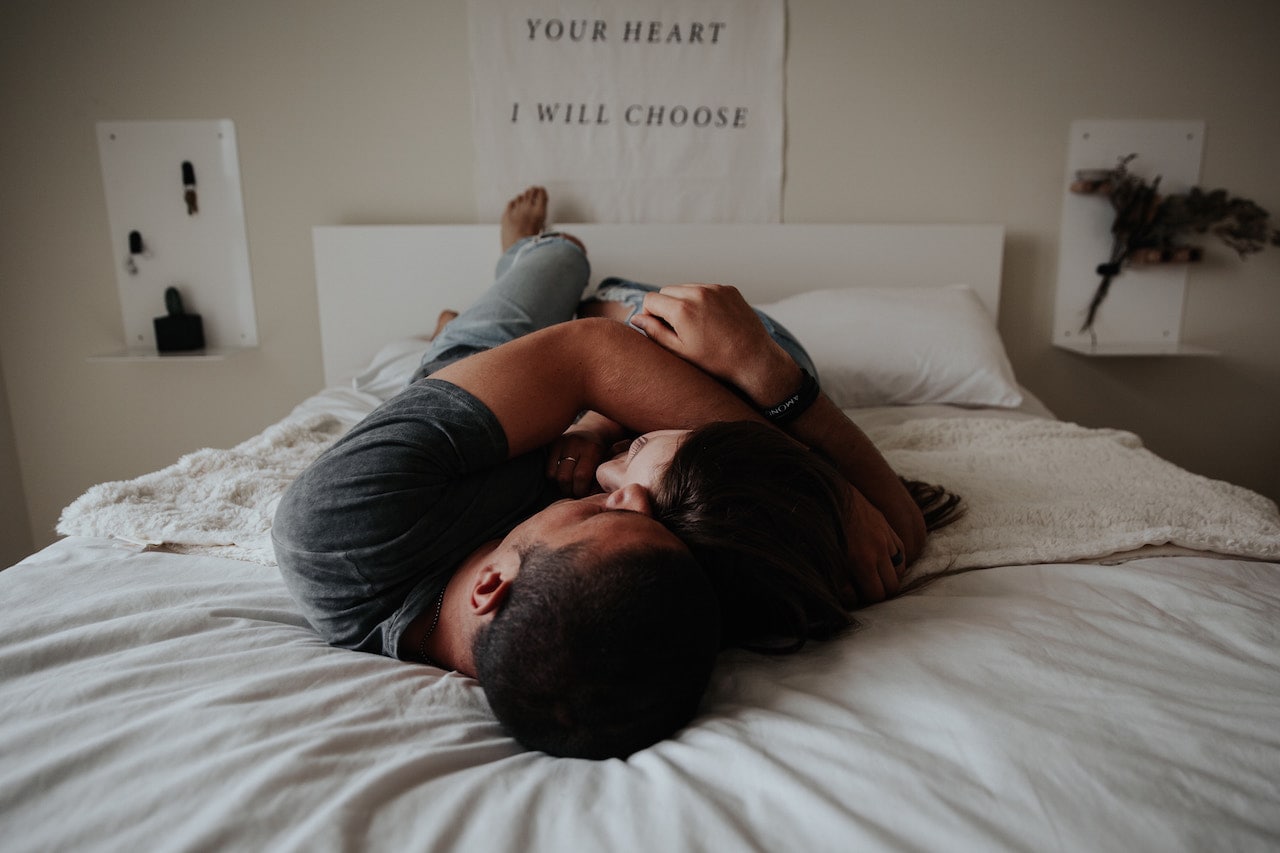 No two people in a relationship are going to have the exact same sexual desire, but when it becomes a chronic problem, it might be time to seek help.
The most common myths about desire
In our culture, sexual education is spotty at best. Many of us get a lot of our ideas about sex from movies and pornography, and those aren't always the healthiest sources for sexual information.
You, just like everyone, probably suffer from a variety of beliefs about sex that are untrue and unhealthy.
Here are two common myths about sexual desire in long-term relationships, and the truths behind them:
Sexual desire is driven by love. Sexual desire and love are related, but not the same. Sex is a great way for people who love each other to connect on an intimate level, but it's not the most important or most meaningful way for people who love each other to relate. Just because someone doesn't desire sex with you at this moment, it doesn't mean that they don't love you.
Desire happens spontaneously. Sexual desire is not always a sudden, spur-of-the-moment, passionate experience. Believe it or not, it's okay to schedule sex! While everyone should always be free to withdraw consent, it's a great idea to make room in your schedule for sexual time with your partner. Sometimes the anticipation makes it even better.
These are two of the most widespread myths that feed into sexual discrepancies, though there are, of course, more.
Let's explore some of the types of sexual discrepancy and then their causes.
Types of desire discrepancy (also called mismatched libidos)
There are a range of reasons why you might have mismatched libidos in your relationship. Here are the types of differences between the sex drives of two people in a relationship:
Both people want sex but one wants it more than the other. This means that one partner has a higher sex drive and one has a lower one. This is very common in many couples I work with.
Both people want sex but disagree on what activities they want to engage in. Two people may have different sexual tastes and/or kinks, causing them to have conflicting desires.
Both people want sex but they disagree on the effect of conflict on desire. One partner may be unwilling to have sex when they feel angry with their partner, while another may not find that it makes a difference in how much desire they feel.
One person doesn't want sex very much at all. This person may have a very low libido, possibly for medical reasons. While it's important not to pressure anyone into sex that they don't want, this can often be treated.
The most common reasons you don't want sex
Here are some common reasons that you might not want sex:
The pressure of performance. No matter your gender, you may worry about your sexual response and/or sexual performance.
Anxiety and shame about the "normality" of your sexual tastes or body parts. You may have body shame that leads you to be unwilling to reveal your body to a partner, or you may have tastes that you feel are unusual or unacceptable.
Non-sex-related emotions. Sometimes you may be distracted by stress in either your personal or professional life, making it tough for you to focus on sex with your partner.
Unmet or conflicting conditions. Everyone has conditions that need to be met before sexual activity can occur. If your conditions aren't met, it can be very tough for you to get "in the mood." Two universal conditions for sexual activity are feelings of safety and empowerment.
Criticism. While communication is good, it must be respectful or it's a detriment. If your partner critiques your sexual performance or proclivities in a disrespectful way, you can often become too ashamed, angry, or spiteful to engage in sexual activity.
Inadequate initiation or transition. Some people need more foreplay than others. If you're one of these people and the transition into sexual activity is inadequate, you won't want to participate because you won't be in the right head-space.
It hurts. Pain is a common problem for the receiving partner and is often a result of stress or anxiety that shows up in your body. The good news is this can often be treated with therapy or medical attention if there is a physiological basis for the pain.
It isn't satisfying. For whatever reason, the sex is not meeting your needs, and therefore you don't have the drive to repeat the activity.
The takeaway: In general, a lack of desire is seldom about a lack of enjoyment. When it is, it's time to create more enjoyable sex. But the technique is typically not the issue—more likely, it's medical stuff, personal issues, and/or relationship conflict. Those three things always need to be attended to when there are sexual issues in a relationship.
Why you're not initiating sex
For sexual activity to happen, you or your partner has to initiate sex. In some relationships, this is usually the same partner, and in other relationships, the responsibility is shared equally.
Sometimes, when there is a sexual dysfunction in a relationship, it is because neither partner is willing to initiate.
Here are some reasons you might not initiate sexual activity:
You don't think you're going to enjoy it. This is not the same as sexual dysfunction, but it can be chronic—you might not believe that the sex is going to be satisfying or is going to meet your needs.
You don't think your partner is going to consent to sexual activity. If you don't think your partner is going to agree to sexual contact, you might not feel it's worth it to even ask.
You anticipate criticism. If your partner is harsh about their "no's" and/or criticises the way that sex goes, you might want to protect your ego by not initiating sex.
You're tired of being the one to initiate sexual activity. If you're often or always the one to initiate sexual activity, you might feel unwanted or just plain bored.
You're angry, hurt, sad, or lonely. Whether these emotions are directly related to the relationship or not, stressful feelings can prevent you from initiating sex.
You're afraid of your sexual impulses. If you experience sexual shame you may not want to initiate sex because you don't want to experience that shame.
You don't feel attractive. If you don't feel desirable, whether in general or by your partner, you're not going to be inclined to expose your body to someone else in a sexual way.
The last time you had sex, it was a disappointment. If the last sexual experience you had was not satisfactory, you might hesitate to initiate sex again.
3 tips for reducing a discrepancy in sexual desire
If you and your partner have differing sex drives, there are practical steps you can take to fix the problem.
Here are a few options:
Find out what the low-desire partner wants and doesn't want, and stop the low-desire partner from having sex they don't want. Focusing on what the low-desire partner wants is a key aspect of righting discrepancies in desire. If a person is going to feel safe enough to have sex, they need to feel safe enough to say "no" to the things they don't want. Catering to the low-desire partner's needs and wants can enhance pleasure for both partners, in addition to making both people feel heard.
Identify any sexual pain. If anyone is having pain connected to sex, it's important to get this assessed by a medical professional and to immediately stop any painful activity.
Identify what the high-desire partner wants and increase activities that support the high-desire partner. For example, when they desire sex, they may also desire attention. Going on a date and spending some quality time with each other might satisfy the high-desire partner's need for attention without pressuring the low-desire partner into sex.
If this is a chronic and/or serious problem in your relationship, don't hesitate to make an appointment with a couples therapist who works with sexual issues. There is plenty that a professional can do to help how you and your partner interact.
Do you need help with your sexual relationship?
If you need help with your sexual relationship, contact Clinton Power + Associates for a FREE 15-minute phone inquiry call to discuss your situation and find out how we can help. Call us now on (02) 8968 9323 or book your free phone consult online.
Since 2003, Clinton Power has helped thousands of couples and individuals as a counsellor and psychotherapist in private practice in Sydney and online in Australia. Clinton regularly comments in the media on issues of relationships and has appeared on Channel 7, The Sydney Morning Herald, and ABC Radio. Clinton's eBook, 31 Days to Build a Better Relationship is available through his website or Amazon. Click here to take Clinton's relationship checkup quiz to find out how well you know your partner.