In the book, We Do: Saying Yes to a Relationship of Depth, True Connection, and Enduring Love, psychotherapist Stan Tatkin explains how a secure-functioning relationship creates a blueprint for a successful, healthy, long-lasting love relationship.
Tatkin takes a preventative approach to building committed love relationships, focusing on working through the book with your partner rather than independently.
We Do is a two-person guide to pre-commitment counselling, aimed at preparing you for the significant endeavour of a committed relationship. Tatkin suggests that the road is more successfully travelled after learning about it and showing up at the start equipped with a mutually agreed-upon roadmap.
In ten chapters, Tatkin covers the psychobiology of couple work. Psychologically, he discusses how family history and early experiences of how you bonded with others impact you today. Biologically, Tatkin explains how your brain, arousal system, and physical health influence your approach to relationships.
Based on the science of attachment theory, developmental psychology, and neuroscience, among other areas of study, We Do is a vital read for couples who want to build a successful and long-lasting relationship of love and trust.
The troublesome triad
In We Do, Tatkin speaks about issues that affect most couples, including what he calls the troublesome triad of memory, perception, and communication. These are the three main areas that cause conflict in relationships. Tatkin says a basic knowledge of these areas can go a long way to preventing them from derailing your relationship.
Here's a summary of each area:
Memory
Your memory is flawed and imperfect
Your state of being drives your memory, your memory drives your state of being, and your state of being alters your perception of what's happening
Emotions affect your memory by changing it, and your memory affects your emotions by changing them
Recalling memories changes them based on how you feel in the moment of recall, creating less perfection the more times something's recalled
Understanding that memory is flawed can create less insistence on being right based on what you remember or whose memory is correct
"Our memory isn't what we think it is, and both partners need to own this truth."
Perception
Your state of being drives your memory, your memory drives your state of being, and your state of being alters your perception of what's happening
Perception is what you think is happening, not what's actually happening
The words "There's a lot of blood" heard from around the corner, may cause the perception that you're about to walk in on the gore and result of some violent act when in reality, two workers for the blood bank are taking inventory on what they collected that day
Communication
Words mean different things to different people
Misinterpreting language is a universal problem
Assimilation is when we understand something new within the context we already know (easier)
Accommodation is when we change our way of thinking about new information, to understand it (harder)
"We naturally attempt to understand what others mean through our own lens."
Communication is an approximation of following someone else's mind
These three areas all work together to guide your interactions with and interpretation of cues from your partner. You make errors in these areas constantly, and that's okay, but understanding how these areas work and affect your experience can help you improve your interactions in these three areas and with your partner.
Styles of relating
Styles of relating are a different name for our attachment styles. These were talked about at length in Tatkin's book, Wired for Love: How Understanding Your Partner's Brain and Attachment Style Can Help You Defuse Conflict and Build a Secure Relationship, which I previously reviewed here.
In We Do, Tatkin explains how the quality of attachment, either secure or insecure, affects your relationship with your partner. Your attachment style develops from your childhood experiences (between your primary caregiver and you) and carries into adulthood, impacting your loving relationships. "Attachment has to do with safety and security in our most primary relationships," Tatkin says.
The negative brain
The brain has a negative bias: "in the absence of positive interaction with others, it will always go negative." The brain is a very complex organ and has many systems that contribute to this bias.
In We Do, Tatkin discusses the strengths and flaws of how your brain regulates itself using primitives and ambassadors, nervous system regulation strategies, the sympathetic nervous system, and the parasympathetic nervous system.
Furthermore, Tatkin's book also covers how you and your partner depend on each other for nervous system regulation, helping each other to balance energy and emotion, including co-managing distress as well as interpersonal stress.
The wrap-up and the book
Love relationships are complicated and challenging, as managing a two-person system is much more intricate than one person. We Do: Saying Yes to a Relationship of Depth, True Connection, and Enduring Love can give you and your partner the tools and skills to build a lasting relationship now and for all life's challenges in the future together.
If you're interested in finding out more, you can buy Stan Tatkin's book We Do: Saying Yes to a Relationship of Depth, True Connection, and Enduring Love on Amazon.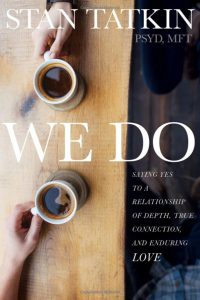 Do you need relationship help?
If you need help with your relationship, contact Clinton Power + Associates on (02) 8968 9323 or book an appointment online.
Since 2003, Clinton Power has helped thousands of couples and individuals as a counsellor and psychotherapist in private practice in Sydney and online in Australia. Clinton regularly comments in the media on issues of relationships and has appeared on Channel 7, The Sydney Morning Herald, and ABC Radio. Clinton's eBook, 31 Days to Build a Better Relationship is available through his website or Amazon. Click here to take Clinton's relationship checkup quiz to find out how well you know your partner.