In his audiobook, Your Brain On Love: The Neurobiology of Healthy Relationships, researcher and couples therapist Stan Tatkin answers the question: Why be coupled anyway?
Key takeaways
In this audiobook, Tatkin talks about:
what he's learned from his leading-edge work in research, the neurobiology of healthy relationships, and couples therapy
prompts listeners to "Improve your brain, improve your relationships"
merges current insights from neurobiology and attachment theory to help you shift out of conflict and into connection
This book is excellent for anyone looking to build enduring security and commitment into their relationships because it takes strong, proven principles backed by science and breaks them down in easy-to-understand ways that you can apply in your daily life.
Read on to get highlights of the book and find out how to access this audiobook for yourself, and start improving your relationships today.
About the author
Stan Tatkin, PsyD, MFT, is the author of Wired for Love, Your Brain on Love, and Love and War in Intimate Relationships. He has a clinical practice in Southern California, teaches at Kaiser Permanente, and is an assistant clinical professor at UCLA. Tatkin developed the Psychobiological Approach to Couple Therapy® (PACT) and, together with his wife, Tracey Boldemann-Tatkin, founded the PACT Institute. Find out more at his website.
Your Brain On Love – a summary
Stan Tatkin has learned a lot about neurobiology and attachment theory in his research, and he shows you how to take this knowledge and apply it to build healthy relationships with your partner.
Tatkin guides us through the idea that healthy relationships shift over time to match the evolving needs of the partners, but at its core, the relationship should have a point or reason. Healthy relationships anchor themselves in a set of ground rules established between partners; you develop social contracts with your partner to be good caregivers of each other.
Neurobiology of healthy relationships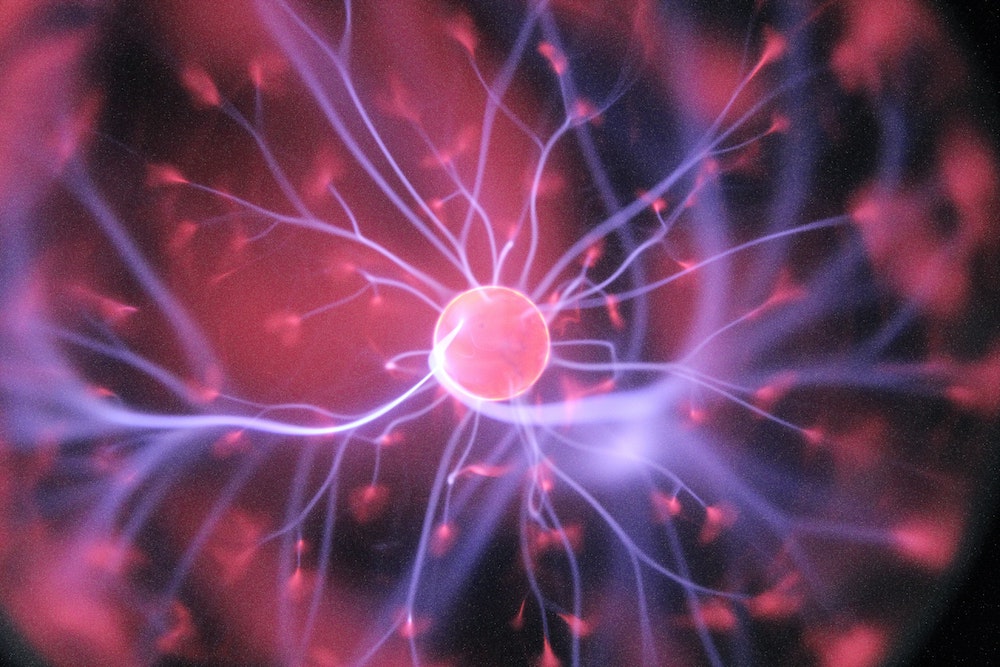 Tatkin addresses the concept of the warring brain versus the loving brain, explaining how you can use emotion regulation research to release stress from your body and further feelings of connection, safety, and intimacy with your partner rather than conflict.
In response to an emotional irritant, this self-awareness of your physical body allows you to let go of the physical tension your body holds in a peaceful, outward meditative exercise with your partner, focusing on them and maintaining eye contact as a method of grounding. Practising this self-awareness, creating new patterns physically in your body, also rewires your brain, counteracting your brain's threat response and building enduring security.
Tatkin's facts about people and relationships:
There is nothing more difficult on the planet than another person
The complexity of another person is what makes relationships so challenging. This unique connection is unlike any other relationship when you're in an ongoing intimate relationship.
Tatkin says, "Pets are easy. Partners are hard."
Your brain is a mystery to your partner, just like your partner's brain is to you. Keeping this in mind helps remind you that everyone finds relationships difficult.
All people are by nature annoying
Stan Tatkin says we find other people annoying because of the 'different minds' phenomena.
Different minds have different ideas, intentions, goals, and feelings, which is annoying when your minds don't meet.
Appreciating that all people are annoying allows you to have realistic expectations within your relationship when things become difficult.
There is no such thing as a low-maintenance person
Most people from a distance look low-maintenance, but up close, they are not. All people are high maintenance when you are in an intimate, committed relationship.
When you spend your life with someone, it's only natural that there will be aging, health concerns, and possibly mental health issues over time.
Romantic relationships are burdensome
Tatkin says primary attachment relationships do have a degree of burden. At some point, you will have to care for your partner, or they will have to care for you.
Entering a relationship thinking everything will be easy and blissful and that other people don't take effort and work is unrealistic.
Accepting that relationships are burdensome is not a reason to avoid a relationship. Instead, it's an opportunity to be more realistic about your relationship expectations.
In love relationships, nobody comes pre-trained
Tatkin shares that some people expect their partner to have gone to a "school for love relationships", but nobody is trained in relationships.
Since no one is trained in how to do love relationships well, it's expected that we all enter relationships without knowing how to navigate them best.
The good news is partners can train each other on how to be in a relationship. Tatkin states partners need to have each other's 'owners manual', and they need to know how each other works, which includes understanding the strengths and deficits of your partner.
Over time, this knowledge will help you become a better partner.
The need to be parented never really ends
Tatkin reveals many people find this fact shocking.
People often think that parenting ends when you become an adult, but Tatkin asserts that we continue to parent in our primary attachment relationships for as long as we live.
The idea is not that you parent your partner because they are immature. Parenting each other is a skill and task of couples in healthy and secure functioning relationships.
Romantic partners are responsible for each other's past
Tatkin says when we start a committed relationship, we inherit our partner's past. Our partner becomes a proxy for everything that has come before the current relationship.
Tatkin adds we can't reasonably say, "you're projecting your past onto me," because this is part of natural phenomena. Those who have previously hurt us are no longer around, so we will have similar feelings to those close to us.
Instead of saying, "I'm not responsible for that pain, take care of it yourself", you can say, "I'm sorry".
Related: The 10 Commandments for Relationship Essentials [Infographic]
Most of the time, we don't know what we are doing or why
The way the brain operates is why we are not aware of what we are doing most of the time. Tatkin indicates our automatic brain is doing most of our tasks 90% of the time, so we don't have to think about what we are doing.
In relationships, the automatic brain operates almost entirely by memory. We are acting and reacting so fast that we often don't know what we are saying or doing.
Understanding this can help you make sense of why you and your partner can react so quickly in a negative way to each other.
What we don't know, we make up
Tatkin states the confabulatory part of the brain makes up for what it doesn't know. This fabrication leads many people in relationships to have the wrong idea about what their partner is or isn't doing.
The brain needs to fill in the blanks, so much of what is unknown is made up. This insertion of unconfirmed information leads to lots of misunderstandings, wrong assumptions, and misappraisals.
An awareness that much of what you believe is not fact enables you to be more curious about what your partner is thinking, feeling, or saying.
Our brains are built more for war and less for love
There is an evolutionary reason why our brains are built more for war than for love.
Tatkin says there are parts of our brain that are specialised in picking up threats and dangers in our environment. This awareness, including scary sounds, movements, postures, and gestures, is how we've survived as a species. Tatkin shows there are also dangerous words and phrases, and this part of the brain picks up threats much faster than we know.
Tatkin states many couples don't know they're being threatening to each other. In addition, our memory system is built to retain negative experiences over positive experiences.
Pay attention to your expression with your partner, including words, phrases, the pitch of voice, speed of delivery, and non-verbal gestures and behaviour to avoid unintentionally threatening your partner.
We need to be tethered to another person in order to survive
To survive and thrive, you need to be tethered to at least one other person in your life. Tatkin says our culture of autonomy makes this difficult, but it's essential for health and well-being.
Tatkin claims this is the ultimate medication for depression, anxiety, and getting through life. A secure base is essential to be able to survive and thrive in the world today.
Listen to this audiobook to improve your relationship
While this is only a snapshot of what's in the audiobook, this complete audio learning program covers the different attachment styles (Wave, Island, and Anchor) and how they interact.
One of the most valuable parts of this book is learning how to best respond to your partner when you understand more about their attachment style.
Stan's realistic and good-humoured approach to the topic is a breath of fresh air. His practical advice is stuff you can immediately implement, whether you're currently in a relationship or hoping to start one in the future.
The complete audio learning program, Your Brain On Love is available on Audible, Amazon, and Sounds True.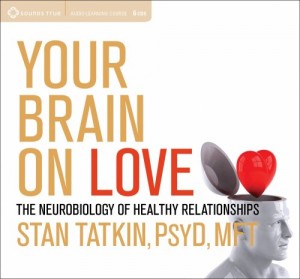 Your Brain On Love, with Clinton
Much of Clinton's work in his private practice with couples is based on the information in Tatkin's audiobook. Clinton uses concepts discussed in Your Brain On Love to help couples shift away from harmful conflict and into deeper connection.
Couples experiencing healthy conflict avoid triggering fear in their partner and use proven principles and practices of attachment theory to continue deepening their secure relationship.
Clinton works with you and your partner to help you learn to identify attachment styles, patterns of intimacy, and patterns of conflicts. You then work together to develop the habits and skills needed to put out emotional fires, build security, and deepen intimacy.
The takeaway
Stan Tatkin teaches that there are good reasons to be coupled. His model of understanding relationships is grounded in the science of neurobiology and attachment theory – looking at the brain and nervous system.
In his audiobook, Your Brain On Love, Stan offers key insights to understanding how to build deep and loving connections. The principles and practices in this book discuss making a commitment, building security, and developing a lifelong plan that endures beyond the aspects of courtship and attraction.
Do you need relationship help?
If you're considering marriage counselling, online therapist Clinton Power has extensive experience helping couples create better relationships. Clinton uses evidence-based interventions based on the science of healthy relationships in his work with his clients.
Contact Clinton Power + Associates on (02) 8968 9323 during business hours to discuss your situation and find out how Clinton can help, or book an appointment online now.
CONTACT US NOW
Since 2003, Clinton Power has helped thousands of couples and individuals as a counsellor and psychotherapist in private practice in Sydney and online in Australia. Clinton regularly comments in the media on issues of relationships and has appeared on Channel 7, The Sydney Morning Herald, and ABC Radio. Clinton's eBook, 31 Days to Build a Better Relationship is available through his website or Amazon. Click here to take Clinton's relationship checkup quiz to find out how well you know your partner.