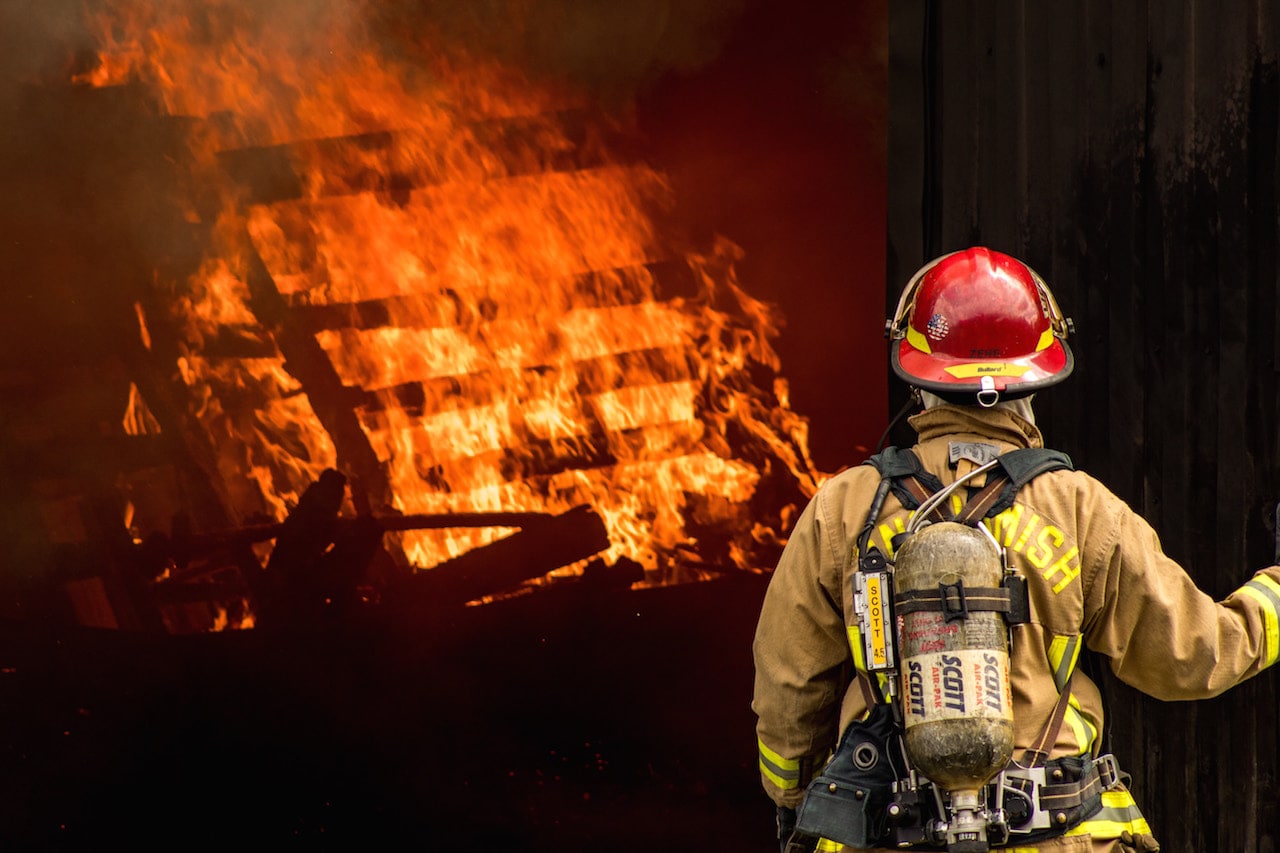 Firefighters face very high levels of job stress. This is not surprising, given they interact with people in extreme situations and are exposed to a wide range of dangers, not typical in most other professions. These stresses and difficulties, mental, physical, and emotional, have a significant impact on a firefighter's well-being.
A recent study from Baylor University suggests that while the close friendships and camaraderie at the firehouse can help to ease the stress firefighters face on the job, their spousal relationships may be a source of increased stress.
Firefighters often build close friendships at work, couple that with the unique way firefighters interact with their workplace, and you have the makings for a strong support network.
In contrast, pressures to 'leave it at the firehouse' and not display their high-stress emotions at home often create a mental and emotional barrier between firefighters and their spouses, creating additional emotional stress.
Firefighters and mental health
Firefighters tend to share qualities of focusing on others, protectiveness, strength, and not being outwardly expressive. This combination often prevents them from seeking help with how they process their emotions and mental health.
Due to the combination of these personal characteristics and the high-stress nature of their work, firefighters are prone to many mental health disorders, including suicide, PTSD, depression, sleep disorders, alcoholism, anxiety, and tobacco use.
Their reluctance to access mental health support makes finding other ways to deal with their emotions and stress all the more critical.
Work relationships and the work environment for firefighters
In the study, which included male firefighters in the state of Texas, firefighters reported developing close relationships with their colleagues.
Workplace friendships between firefighters have great value in their diminished presence of competition, criticism, and conflict, which are often present and emotionally harmful in high masculinity male relationships.
Instead, researchers found that close friendships between firefighters often have more self-disclosure and conflict management. It's more comfortable and easier to relate to similar others, for men, and close friendships with their colleagues provide that comfort and familiarity.
Their work environment is also atypical, living at work with their colleagues for days at a time. Living at the firehouse and sharing tasks such as cooking, cleaning, leisure, sleeping, showering, and maintenance builds intimacy and a 'closeness by doing' that creates a safe space for help, trust, and empathy.
The 'marriage effect'
While firefighters found some relief from work stress with high-quality work friends, the same was not true with their spouses.
Given the firefighter mandate to 'leave it at the firehouse', firefighters may feel the need to hide or fake emotions at home, presenting emotions they think are expected when asked about their work, job, or day instead. This becomes emotionally exhausting while also lessening job satisfaction.
This response to handling their high-stress emotions can create a barrier between spouses that is not present between close colleagues. It also puts the firefighter in a position where they may not feel the same support from their family, relating to their job stress, as they do with their colleagues.
Tips for firefighters in a relationship
There are a few things you can do if you're a firefighter (or any emergency worker) in a relationship. These include:
Set aside time to talk with your partner. Make time to talk to your partner on a regular basis. You can talk about your job, your relationship, dreams for the future, or whatever else you want. Not all talks have to be heavy, but the act of expressing yourself is very healthy for unburdening yourself from stress and worries. Make a regular ritual of connection through talking with your partner to help sustain your relationship.
Don't try to protect your spouse. If you're struggling with a part of your job, or you've had a particularly bad day, it's important to lean on your partner for support and express what you're thinking and feeling. Remind your partner that all they need to do is listen to what you're going through and you don't need solutions. It's likely your partner will be more than willing to let you download some of your stress.
Focus on self-care. Like any profession that deals with highly stressful events and environments, it's critical that you have good self-care habits that support your mental and physical health. Avoid common pitfalls such as heavy drinking sessions after work or using prescription medications to sleep. Instead, think exercise, yoga, meditation, sport or anything else that gives you pleasure and reduces stress. It's these healthy self-care strategies that will support you staying in the job and doing your best under incredibly difficult circumstances.
Don't try to solve all your problems on your own. If you've experienced trauma on the job, such as dealing with deaths of victims, work colleagues, or any other kind of loss, you don't have to work it all out on your own. Unprocessed trauma can evolve into PTSD, which can have a significant impact on your life. So make sure you seek professional help if you're struggling to deal with a work situation. Many therapists are trained in working and resolving trauma and there are many therapeutic strategies that are effective in doing this.
Closing thoughts
So in summary, this study found that spousal relationships may be a source of increased stress if firefighters feel compelled to hide their job stress or appear strong and stoic in front of their partners. However, having close relationships at the fire station and at home is beneficial for overall job satisfaction and quality of work-life according to researchers.
Having close relationships at work is a positive step for emotional support. This is especially the case with firefighters. Given their tendency not to pursue mental health support while working a high-stress job, the support networks they build at work can be an important source of stress relief as well as mental and emotional regulation. This network, in turn, has a direct impact on job satisfaction experienced by firefighters.
There is a direct correlation between having strong, high-quality relationships, and positive job satisfaction. Building and maintaining those relationships is an important step not only for mental and emotional health but also for the quality of work life.
Do you need relationship help?
If you need help with your relationship, contact Clinton Power + Associates on (02) 8968 9323 to discuss your situation and find out how we can help.
Since 2003, Clinton Power has helped thousands of couples and individuals as a counsellor and psychotherapist in private practice in Sydney and online in Australia. Clinton regularly comments in the media on issues of relationships and has appeared on Channel 7, The Sydney Morning Herald, and ABC Radio. Clinton's eBook, 31 Days to Build a Better Relationship is available through his website or Amazon. Click here to take Clinton's relationship checkup quiz to find out how well you know your partner.