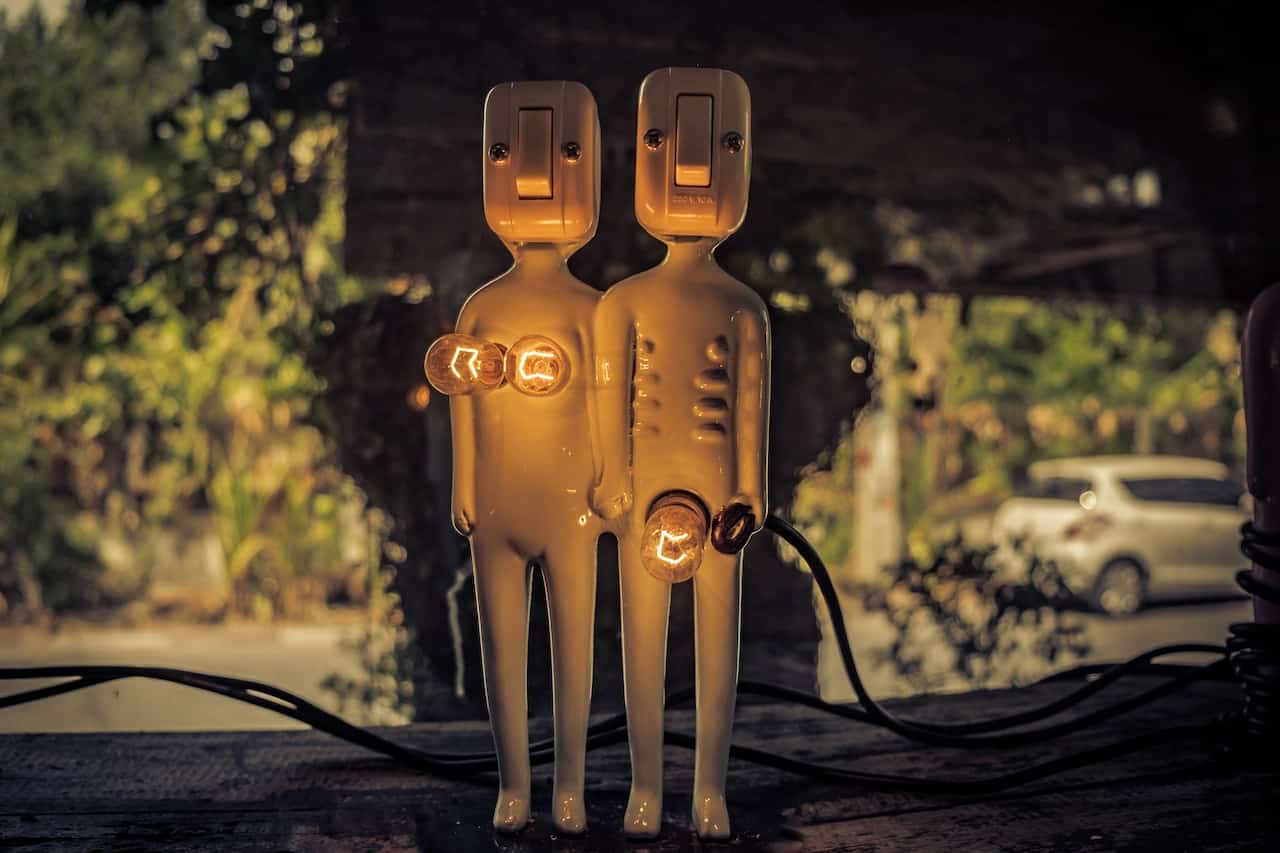 Curious if an open relationship can work for you?
An open relationship is not for everyone. However,  there are plenty of couples who are either curious, interested or just plain ready to open their relationship.
Open relationships are not for the faint of heart. And they certainly aren't a solution for a failing relationship. Simply put, there's a lot that can go wrong when it comes to open relationships.
Firstly, I think it's important to define an open relationship (also known as non-monogamy) and how they differ from polyamorous relationships.
Couples in open relationships have sex with other people but are not interested in pursuing dates, romance, or a relationship with their sexual partners.
In contrast, polyamorous couples believe that one partner cannot meet all their needs, and they want to explore having a relationship with someone else in addition to sexual experiences. These couples don't limit themselves to just one person when it comes to affection, romance, flirting, sex, connection, and love. Different configurations can be used for polyamorous relationships, but the most common has a primary relationship, with other relationships that are secondary or not as important.
Considerations for opening your relationship
If you're considering opening your relationship, it's essential you sit down with your partner and clearly communicate your expectations of how the open relationship is going to work.
Most couples who enter into some form of non-monogamy will have ground rules or boundaries to specify which sexual behaviours are okay and which sexual behaviours are not okay.
Some of the questions you need to ask each other include the following:
How are we going to deal with the issue of safer sex?
How will we deal with disclosing our sexual activities?
How will we limit (or not) who we can have sex with?
What sexual activities are permitted?
Where can we have sex? (e.g. our home, hotel, or somewhere else?)
Can we have regular sex partners?
For a comprehensive list of questions non-monogamous couples can work through, check out Chapter 11: Designing Your Open Relationship in the book, "Opening Up: A Guide to Creating and Sustaining Open Relationships," by Tristan Taormino.
Another good resource for those considering opening their relationship is the book, The New Rules of Monogamy: Redefining Your Relationship After Infidelity, by Dr Tammy Nelson.
You can also listen to my interview with Dr Tammy Nelson about her book here.
Open relationships are a big and complex topic, so I spoke to Hannah Reilly on the ABC triple j radio show The Hook Up about the what, why, and how of open relationships.
Click the audio player to listen to my interview or read the transcript below.

Transcript:
Bronte:  For us, it was about the sex, but then he started seeing a girl and met her parents and that kind of thing, and I was totally not okay with that. I pretty much told him I didn't really want him to speak to her anymore, and then I found out six months later that he still was. It can work for lots of other different people, but for me, I never would. I don't think I can trust anyone enough anymore. There was a bit of cheating on his behalf as well and that kind of thing, so I wouldn't do it again, but I'm sure it works for other people.
Hannah Riley:  How do you figure out if an open relationship, as in, staying together but being able to have sex with other people, is worth trying? It could be great. You could explore your sexual satisfaction and become more solid as a couple, or it could completely backfire and potentially mean the end of the relationship. How do you figure it out? Joining us on the podcast is Clinton Power, who is a couple's therapist. First, we spoke to a caller who was in an open relationship until her boyfriend started to get controlling.
Ellen:  Well, I did talk to my partner about it. He was keen on the idea. I was quite surprised. We tried it out. A few weeks going into this, he got really suspicious and jealous, which I thought was kind of normal at first, of course. Then he asked to put a tracker on my phone. Yeah. I was like … I'm an adult. I don't need a tracker on my phone. This is what it's about, trusting each other.
Hannah Riley:  Wow. Yeah. Why even agree to be in an open relationship if those are the terms and conditions? There's nothing open about that.
Ellen:  Well, we did talk. We did say if we did get jealous, we'd talk to each other, which is what we did, but I did not think it would get to that, like, get a tracker on my phone.
Hannah Riley:  How did it all end up?
Ellen:  I said no, of course, to the tracker. I was like, "Look, don't babysit me like this." He's very close with his mum, so he ended up telling his mum and brought it up at a family dinner just a few months later. That wasn't the best thing, but I got some cool questions like, "Why would you even suggest being in an open relationship? You should have my son for all he is." That. Yeah.
Hannah Riley:  That sounds like a very awkward luncheon.
Ellen:  Very awkward lunch. We broke up the week after.
Hannah Riley:  Yeah. Look, Ellen, that's not a shocker to me, to be honest.
Ellen:  To anyone out there, definitely try it. If you really want to. Give it a go, but you got the be honest with your partner. Bye.
Hannah Riley:  Yeah. Thanks so much for getting in touch with us, Ellen. Really appreciate it.
Ellen:  No worries.
Hannah Riley:  Joining us in the studio to help us figure out open relationships is Clinton Power, who's a clinical relationships counsellor and couples' therapist. Clinton, thanks for being with us.
Clinton Power:  Hi Hannah, great to be here.
Hannah Riley: Ellen's boyfriend asked her to put a tracker on her phone. Does that sound like a healthy, open relationship to you, Clinton?
Clinton Power: No, it certainly doesn't. That's kind of called stalking, isn't it? I think she did touch on something there. Ellen said you have to have good communication. I think that's really essential because to have a successful open relationship, you have to prioritise communication, honesty, openness, collaboration, and respect. That has to be the foundation of opening any relationship. You know what? Even the strongest couples can still struggle with anxiety, jealousy, anger, and hurt. That potential is always around the corner, so it's a really tricky area for a lot of couples to have successful open relationships.
Hannah Riley: Yeah. Definitely. What are some of the reasons couples who come and see you want to start open relationships?
Clinton Power: That's a great question. It's very varied, depending on the couple. Some couples might want more variety, novelty, and different sexual adventures. Sometimes our partner can't actually provide everything we want sexually in a relationship, so that's where sometimes, an open relationship can help you meet those sexual needs in other ways where maybe your primary partner can't. Other couples who are in consensual nonmonogamous relationships love the freedom, and knowing their partner is having sex with someone else can actually be very pleasurable and enjoyable for them, knowing that their partner is experiencing their sexuality with other people. It can be a whole range of reasons.
Hannah Riley: I've heard from you on the text line, "Oh my God, this hits me right in the feels and puts me on the edge of my seat because my partner and I agreed to try an open relationship as of two days ago, but I hope it brings us back together." That is from Jarred from Ballarat. The back-together thing is interesting. It sounds like they might be trying to start an open relationship to fix their relationship. Is that common?
Clinton Power: Yes, unfortunately, it is, and I'd always advise, don't open the relationship to solve current relationship problems because what ends up happening is you end up with many more problems than you had to begin with. You have to come from a really solid foundation of security and trust and honesty and openness. If you're already feeling disconnected or you're having sexual problems in your relationship, don't outsource it as a solution.
Hannah Riley: What are some other not-so-good reasons to start an open relationship?
Clinton Power: Let me think about that. One of the things that come to mind is the idea that if we open the relationship, we're actually going to feel stronger. We're going to feel closer. For some people, that is the case, but it can also, as I mentioned before, it can really raise feelings of jealousy and insecurity, and so, sometimes, it actually has the opposite effect where one partner might become more jealous or more insecure. I've even heard of couples in a committed relationship where they've opened it, it's been going really well, and then something will pop up that they never thought of.
For example, I heard one story about a girlfriend who saw her boyfriend's sex partner on social media. She didn't expect that, but when she saw the photo of her boyfriend's sex partner and how beautiful she was, she suddenly became incredibly insecure, even though she had been really solid about the whole open relationship up until then. They are the kind of things that can come up without warning.
Hannah Riley: Yeah. Yeah. That's really interesting. How does a couple set their rules, and can you give us an example of what those rules might be?
Clinton Power: This is a really important aspect, Hannah, because you have to have a really clear understanding of exactly what the rules are. Otherwise, it can be a free-for-all. Certainly, you have to sit down. You have to have really honest, open communication. What I advise a lot of couples to do is actually, first of all, separately, really reflect on what's okay for you and what's not okay for you if you open the relationship. You can actually create a list and then come back together with your partner and go through that list together. There are many different aspects you need to consider, such as emotional boundaries and sexual boundaries in a consensual non-monogamy relationship.
How are you going to keep your primary relationship free of STIs and engage in safe sex practices? How are you going to stop emotional intimacy connections from forming with other people? What do you do if one of you breaks the rules and, in my experience, that actually happens? Unfortunately, it happens a lot; even though people have rules, they end up getting broken and having negative feelings toward the parties involved. Can we have sex with friends or exes or people we're connected with on social media, like the example I just mentioned? That can be really problematic. Can we have repeat visits, or does it need to be one-off randoms, and we never speak to the person again?
Hannah Riley: It's interesting you mention the friends thing. We've got a text that says, "I tried an open relationship. However, that's also how a relationship started, which inevitably caused the relationship to fail. He had a bunch of friends with benefits before me, which he continued to see through our relationship, which was fine, but then he had a threesome with two of my friends, which broke his rule." It seems like the not sleeping with friends thing might be a common one.
Clinton Power: In my experience, a lot of couples say that's off limits because it gets really tricky, and then suddenly, you're at a social event, and you're there with your partner, and then your sexual relationships there and it just gets really messy, so a lot of people like to have that as a clear boundary.
Hannah Riley: Bronte, from Lily Dale. Thanks for getting in touch with us. Are you in an open relationship with your ex?
Bronte: Yeah. We'd been going out for about two years, and we really saw a future together, but we wanted to explore other things. We'd only really been with each other as well. I came out as bisexual, so I wanted to explore things with girls, and for us, it was about sex, but then he started seeing a girl and met her parents and that kind of thing, and I was totally not okay with that.
Hannah Riley: What happened then?
Bronte: I pretty much told him I didn't really want him to speak to her anymore, and then I found out six months later that he still was. That broke a lot of boundaries, broke a lot of trusts. I was never keen from the start, whereas he was, and I kind of wanted to do it because I knew it was something that he wanted to do.
Hannah Riley: Oh. Has that made you think differently about open relationships now?
Bronte: Absolutely. It can work for lots of other different people, but for me, I never would. I don't think I can trust anyone that enough anymore, deeply. There was a bit of cheating on his behalf as well and that kind of thing, so I wouldn't do it again, but I'm sure it works for other people.
Hannah Riley: Yeah. Thanks so much for getting in touch with us, Bronte.
Bronte: No worries. Thank you, Hannah.
Hannah Riley: You're listening to the Hookup with Hannah Riley on Triple J. We're talking about open relationships, and after meeting an open couple at a bar, Jamie and his girlfriend Sam have decided to start opening their physical relationship. It's helped them explore their sexuality and brought them closer together, but they've still got some questions on how to make it all work.
What was the first time you guys enacted your new open relationship?
Jamie: Probably the first time was when we went to a gay warehouse, club thing in Melbourne, and it was the first time we've ever gone to such an event that's openly just insane to the queer community, at least for the first time I've ever been to one like such thing. Sam and I were looking at each other the whole time because people were advancing toward us. There were the kissing booths where you could just stand up and see who comes up and wants to kiss you, and Sam and I were just like … we kind of agree that we'll have some fun and talk about it later, and then yeah, we just kind of nodded together and then we just like, "Let's go have some fun."
Hannah Riley: How did the rest of the night go?
Jamie: It was absolutely amazing. I honestly can't explain it other than it was like a massive amount of freedom and still having that amazing, loving human to come home to, you know? When we came home that night, we snuggled up together, and it was just like everything was so rock solid and cemented; it was just, it's really hard to explain. I'm sorry, I'm getting a bit teary. It's just really, really nice to have such a connection.
Hannah Riley: I guess it would take a lot of trust between two people to be able to have an open relationship.
Jamie: Well, that was one thing because we're only just feathering the water at the moment. We've only just said that making out and maybe a quick cheeky hand job or something in the toilet stall or something, Sam said to me. As long as we have no possibility of getting the other person infected with any sort of STI, just as long as we are both safe and don't harm each other in our activities elsewhere.
Hannah Riley: Is that your only rule?
Jamie: At the moment, that's the only rule. As I said, it's still so brand new; we haven't actually been able to cross a boundary that we didn't know was there, or certain rules haven't been put in place because we aren't aware of the rules that need to be put in place. Any information would be a great help.
Hannah Riley: Are there any particular questions that you'd like to ask?
Jamie: One thing is jealousy. It hasn't come up. It's so weird to say, but it's like tallying/scoring. For example, if Sam's gone out and had sex with … not sex … whatever she's done with five other people and I only go out with one or vice versa, how does the opposing party fight that jealousy or something like that?
Hannah Riley: You're on The Hookup with Hannah Riley on Triple J. We're talking about open relationships and joining us is Clinton Power, who is a relationships counsellor. Clinton, Jamie had a question about jealousy. How can you manage that in an open relationship?
Clinton Power: That's a really common issue, Hannah. It reminded me that one of the things couples need to talk about is whether they disclose or not disclose because there's a whole range of different things you can set up in terms of … some couples like, don't ask, don't tell so you're not going to ask me and I'm not going to tell you if I'm hooking up with other people. Then you have the do ask, do tell, which means, "Look, I'm not going to tell you, but if you ask me, I will tell you." If your partner's curious, they can ask, and you can find out. Then you have couples who have complete transparency. That'll be the couple where they'll say, "Look, I'm going to be meeting Jane tonight. We're hooking up after dinner, and I'll be back at 10:00." Those couples are completely fine with it.
He raised an interesting issue in that when there is quite an imbalance in the amount of sex that each partner has. It can definitely lead to jealousy. One of the things I recommend is you need to revisit how it's all working on a regular basis because what I see a lot of couples doing is they have one conversation such as, "Okay, let's open the relationship. These are the rules. Great. Let's go for it." Then they never revisit the conversation again. What happens over time is people change. Circumstances change. If you're not revisiting what the ground rules are or even checking in with each other as to how it's working, things can really get off track.
Hannah Riley: When it comes to jealousy, do you think there's such a thing as healthy versus unhealthy jealousy because it's kind of got to be inevitable in open relationships right?
Clinton Power: Jealousy is often related to insecurity. It's on a spectrum. If you have a little bit of jealousy, that can actually be arousing. Someone might feel quite aroused or excited that they're feeling jealous that their partner's having sex with someone else and then they'll use that sexual energy to actually put it back into their primary relationship and energise it. Of course, if jealousy really starts to increase and affect you to the where you're constantly thinking about it and getting annoyed or upset or feeling very insecure, that is not a good sign because it could mean the stability of the romantic relationship is under threat.
That's when you need to come back together and really solidify your relationship. Make it securer and safe again.
Hannah Riley: I've heard from you on the text line. "As long as my partner comes home to me, that's all that matters." Luke says, "I think open relationships are more in favour of women because it would be easier for a woman to pick up, than a man." Andrew called up and said, "Open relationships are just an exit strategy." That's a pretty interesting idea of someone opening their relationship as a red flag towards its ending. Is that something that you see, Clinton?
Clinton Power: Look, I have seen that occasionally. It's really sabotaging behaviour, isn't it? What you'll see in that case is, you'll get an indication pretty quickly, that the person is out for themselves and they're going to be engaging in behaviours that are really undermining and destabilising the relationship and very likely, you'll be feeling extremely insecure and jealous in a short amount of time. That's not a good sign.
Hannah Riley: Jamie also before, talked about crossing a boundary that we didn't know was there. It must take a lot of flexibility for a couple to cross those smaller boundaries that couldn't possibly be foreseen and then renegotiate. Does that happen a lot?
Clinton Power: It does happen. That's why I say you've got to treat this so much like an experiment, particularly in the early days. I love Jamie's story because they kind of did treat it as an experiment, going to the warehouse party and just kind of seeing what happened and then coming back together and really solidifying their own connection. That was a really positive story, an example of that. What's important is, if you think about it like an experiment, then you can just test it out. See what feels good, and what doesn't feel good. Reassess. Come back. Talk about it. Then you can decide how you want to proceed.
Where couples in romantic relationships get into trouble is when they just dive straight into the deep end and it's everyone doing whatever they want, and there's no checking in again. That's where it can really undermine the relationship.
Hannah Riley: Clinton, if you wanted to start being in an open relationship, how could you bring it up with your partner without hurting their feelings or making them feel like they're not meeting your needs?
Clinton Power: That's a tough one because, of course, you can't control how your partner feels. If this is something you've never spoken about with your partner, it could come as a surprise. There could be a shock. Your partner may feel very apprehensive about what you're suggesting. I think what's important is to be very honest and clear about why it would be important to you, why this is something you would want to explore and to keep it as an open dialogue because one of the worst things you can do is to pressure a partner into going into an open relationship.
As you've mentioned already, that can happen quite often that one partner will go along just to keep the other partner happy, but in the end, it actually makes them pretty miserable because they're not really doing something that they're completely on board with.
Hannah Riley: One thing that one of our callers mentioned before was STIs. If you're having sex with people outside of your primary relationship, surely passing it on to your partner is going to be a bit of a fear. How do couples manage that?
Clinton Power: You have to have, again, a very honest conversation about the type of sex you want to have with other people because, as Jamie mentioned in his story, maybe you're just doing mutual masturbation with other people, that's not going to be an issue, but if you're having intercourse or anal sex, that is going to be more problematic. Particularly, if you're in a same-sex relationship, you want to be talking about, whether you are using condoms … or really, it doesn't matter if it's same-sex or a straight relationship, you need to talk about the use of condoms and what you're doing to protect yourselves in your interactions with others so you can really minimise the risk. Of course, you can never minimise it 100%, but at least you can minimise the risk.
Hannah Riley: Clinton, do you think disclosure … it's hard to figure out where that line of disclosure is. What about when it gets to the nitty gritty of having sex with other people? Should you be sharing that, or could that potentially stir the pot even more?
Clinton Power: I think you need to have a conversation with each other about what kind of details you want because some people are perfectly happy just knowing, "Okay, you're meeting John at 10:00. You're going to have a great time, and you'll be back by midnight," and that's perfectly fine. Another partner might actually want all the gory details, and that can be a positive thing because, for some couples, that's very arousing and exciting; they love hearing about the pleasure their partner has been experiencing. Then you can also go to the other end of the spectrum where you're getting the gory details, and it actually eats you up; it really upsets you. You're stewing. You start feeling insecure, and that's not a good thing. Early on, just have a chat about, well, "If we're going to disclose to each other, what kind of details do we want to share?"
Hannah Riley: We got a text that says, "Gay guys are generally so promiscuous that you're pretty much in an open relationship whether you like it or not. I'm currently in my second one. It's tricky, but it works, you just need to manage the little green monster that is jealous." Clinton, do you think open relationships differ in the straight versus queer community?
Clinton Power: I think that certainly, in the queer community, they've kind of led relationships opening up. What I've seen more and more recently is heterosexual couples opening relationships and even a lot of married couples wanting open marriages but it is a myth that all gay men are promiscuous or want an open relationship. I work with lots of same-sex attracted couples and many of them are in monogamous relationships and very happy being monogamous. They don't want it any other way. The research at the moment shows about maybe 40-50% of gay couples do have a non-monogamous relationship.
Hannah Riley: What if you decide to go down the path of an open relationship, and it all blows up and is a total disaster? Is there any way to rebuild trust with that person?
Clinton Power: Absolutely. It's going to take a bit of work, but you need to rebuild that trust because it's the foundation of a secure functioning relationship. Those couples, probably need to close the relationship, at least for a period of time, just so they can focus on rebuilding trust, feeling safe and secure, and reassuring one another. Anytime your partner is feeling insecure, you need to reassure them. Tell them how much you love them, how you're attracted to them, and that they're the only man or woman for you because those things are really important for your partner to hear when they are feeling insecure.
Hannah Riley: Adam from Mascot, you're in an open relationship right now?
Adam:  Indeed I am.
Hannah Riley:  Who's it going?
Adam: It's currently pretty good. It's sort of semi-open in a way, but it is, and it isn't, but it's a really complicated thing, as I'm sure you're all probably familiar with.
Hannah Riley:  How did it come up for you and your partner?
Adam: Well, it's sort of a thing … how do I explain? It sort of came on before I was in a relationship, and I said to myself, if I was ever going to have one, I wouldn't mind having an open one, to an extent, but my other half, they weren't so keen on it to start off with and we tried to enter it open, and it didn't work so well to start off with, but we figured out it wasn't the best idea. Eventually, we closed it and opened it up again a little bit and started off like little baby steps. Yeah. Kind of ended up working. It's been a bit of a rollercoaster, I guess you could say, for both of us.
Hannah Riley:  Yeah. Totally. What's the key to your open relationship? How do you make it work?
Adam: Well, the way we made it work is, rather than just seeing it as wanting to go and get your rocks off with someone else, it's more a case of a way of, sort of, I guess, do kinky things in a way … It's like, I'm into things that they aren't. We have a lot of overlapping interests, but there are things that they're into that I'm not and things that I'm into that they aren't.
Hannah Riley:  Do you mean particular kinks?
Adam:  Yeah. Yeah.
Hannah Riley: That's a pretty interesting way of figuring out a way around that.
Adam:  Yeah.
Hannah Riley: Is it you or your partner who is into the kinks?
Adam: We both are, completely but it's like, things that they're into, which I'm not and if they wanted to try something out, they were able to go and do it with someone else and experience it and enjoy it and I was totally cool with that. Same thing with me. It's like, if they weren't so into it, you know if you want to go and experience this whatever it might be with that other person, go for it. Enjoy your experimenting and trying new things which I can't provide you with, sort of thing.
Hannah Riley: Yeah. Cool. Thanks so much for calling us Adam. Best of luck with it.
Adam:  Thank you. No worries. Maybe not.
Hannah Riley: Clinton, we've got a question for you on the text line, "What about seeing someone who's in an open relationship? What are the rules there?"
Clinton Power:  Do you mean that you're dating …
Hannah Riley:  The external partner?
Clinton Power: The external partner of the open. Gee, that's a tricky one. I'm not sure how that would work. Again, the way I think about it is, you have to come back to the primary relationship. Everything has to revolve around that. If you don't feel like your main relationship, your primary relationship is the most important thing and everything else is secondary, then that can be really problematic. I always say, if you have any issues, always go back to your primary relationship and sort out the rules or the boundaries or how you want to deal with any kind of situation before you go anywhere else. That's a safe rule of thumb.
Hannah Riley:  Clinton, thank you so much for joining us on The Hookup. Really appreciate it.
Clinton Power:  My pleasure Hannah.
Do you need relationship help?
If you need relationship help, contact Clinton Power + Associates for a FREE 15-minute phone inquiry call to discuss your situation and find out how we can help. Call us now on 0412 241 410 or book your free phone inquiry online.
Clinton Power is a relationship counsellor and Gestalt therapist. Since 2003 he has helped individuals and couples move out of relationship pain and create great relationships. Get Clinton's FREE report: 10 Tips for Moving Out of Relationship Pain, by clicking the button below.
FREE Instant Download
Since 2003, Clinton Power has helped thousands of couples and individuals as a counsellor and psychotherapist in private practice in Sydney and online in Australia. Clinton regularly comments in the media on issues of relationships and has appeared on Channel 7, The Sydney Morning Herald, and ABC Radio. Clinton's eBook, 31 Days to Build a Better Relationship is available through his website or Amazon. Click here to take Clinton's relationship checkup quiz to find out how well you know your partner.