If you're meeting people through online dating, follow these safety tips
Like shopping, online dating is more popular now than ever before. (Could you call it a kind of online shopping? Maybe). 1 out of 5 single people has dated someone they met online. We don't have statistics for how many Australians are doing online dating. However, RSVP says they have 2 million members and eHarmony has over 1 million members. So it's clear online dating is not going away anytime soon.
Online dating, like any online transaction, has risks that you might not be aware of. Read on for tips on how to keep yourself safe when you date online.
Don't assume an online profile is truthful
The first thing to remember is that people lie, and especially in anonymous contexts, like online dating sites. 81% of online daters are untruthful about themselves in their profiles. Men misrepresent their height, income, and age; women misrepresent their age, body type, and height. And then there are people lying for completely different ends—the financial scammers. 1 in 10 online profiles is a scammer accounts on free dating sites. You may have heard of "catfishing", the Internet equivalent of "gold-digging".
Don't give out too much personal information
People new to online dating may be tempted to give out too much personal information—1 in 4 online daters post sensitive data—but instead of meeting another really honest person, they'll probably meet a scam artist (it's a numbers game, really). So don't give out any concrete facts about yourself (phone number, address, or, obviously, bank routing number) until you've established that the person you're chatting with online is actually who they say they are.
Meet in a public place and tell a friend where you're going
When you finally do meet your date in person, tell a friend where you're going on a date and a little about the other person. Only meet your date in a public place, ideally not in your neighbourhood. You might want to use a temporary phone number to further protect your privacy. 42% of women say they have felt uncomfortable and received unwanted contact through online dating, compared to 17% of men. And if you meet face to face and discover your date has totally lied about their appearance, you are welcome to call them out on this deception and leave before wasting any more time.
Beware of social media
17% of social network users have posted photos or other identifying details from a date they went on. This is a bad idea on several levels. First of all, it's unlikely they got permission from their date to post the photos, and posting photos and locations of someone without their consent should be illegal—it broadcasts someone's identity and whereabouts to the world and is stored on the social media network's server forever. Secondly, it cheapens the experience of dating.
Must you tell the entire world about your date last night—are you that desperate for approval? If you list too many private and unappealing details online, they can come back to haunt you. Potential employers and universities search candidates' online identities before making decisions.
All that said, online dating is still a good thing. You get to choose from a wider selection of potential mates than any bar, or dance club could provide, and you can progress at your own pace. Just be honest about your appearance and life situation—as you'd like others to be with you—and be smart about what information you offer over the Internet.
Check out the infographic below that summarises these tips: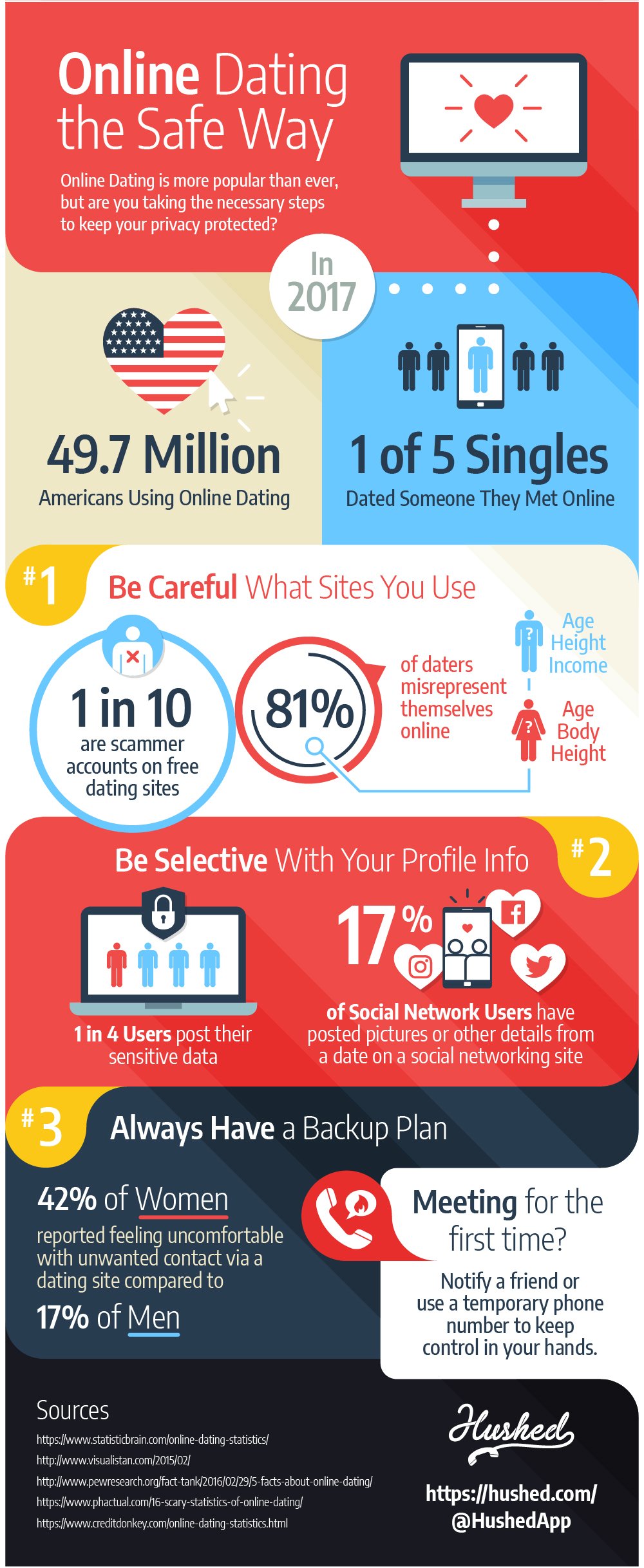 Infographic credit: Hushed.com
Do you need relationship help?
If you need relationship help, contact Clinton Power + Associates for a FREE 15-minute phone inquiry call to discuss your situation and find out how we can help. Call us now on 0412 241 410 or book your free phone inquiry online.
Since 2003, Clinton Power has helped thousands of couples and individuals as a counsellor and psychotherapist in private practice in Sydney and online in Australia. Clinton regularly comments in the media on issues of relationships and has appeared on Channel 7, The Sydney Morning Herald, and ABC Radio. Clinton's eBook, 31 Days to Build a Better Relationship is available through his website or Amazon. Click here to take Clinton's relationship checkup quiz to find out how well you know your partner.