When I first started working as a relationship therapist almost 20 years ago, it was rare that I heard a couple say they met online.
Fast forward to today and I'm now surprised when a couple tells me they met in a bar, nightclub or anywhere else in real life.
There's no doubt our love lives have become digital. Online dating apps now rule the world when it comes to finding a mate.
So if you're wondering what all these dating apps are about, I've done a quick review of the best dating apps available today.
I can't guarantee you're going to meet the love of your life, but I can give you some tips about the app that might be right for you.
So here are the best online dating apps in no particular order.
Tinder
Tinder is famously known for being the app where you swipe left to pass on someone or you swipe right to indicate you like someone. Tinder then lets you know when you're matched with someone else who also swiped right.
The catch here is no one can message you unless you and the other user swipe right. This is a good thing if you don't want to be receiving messages from people you're not interested in.
This app has been criticised for being overly superficial because users are basing their selections on a photo they see for less than a couple of seconds. That said, it is hugely popular, but be aware it does have a bit of a reputation for being a hook-up app.
To get started with your Tinder account, you do have to have a Facebook account to enable it, and you have to be over the age of 18. You can link your Instagram account to your profile and check out the person's Facebook friends you may share. Users tend to report they like the app because of the clear photos and its ease-of-use.
You may have heard of people that have been devastated because they were flicking through Tinder profiles too fast and swiped left when they meant to swipe right. Alas, if this happens to you, you're never going to see that person on Tinder again.
There's no doubt that Tinder is one of the most popular dating apps out there, and it has the proud distinction of having matched over 10 million people to date
Hinge
Some people say Hinge is a lot like Tinder. However, one of the main differences is Hinge uses your Facebook friends to make new connections for you.
It looks at your Facebook connections and then tries to match you with 'friends of friends' based on what you have in common. Sounds pretty good so far?
The clever thing that Hinge does is it asks you some questions and then gets you to swipe left or swipe right (very Tinder-like) as a way of answering yes or no. So the arduous task of answering profile questions becomes quick and painless.
Once again, like Tinder, people can only message you if you are both a match, so no annoying messages from people you're not interested in.
A nice personal touch is you can ask the friend you have in common to tell you more about the person Hinged says is your match.
One limitation of this app is if you don't have a lot of friends on Facebook, you are going to run out of finding friends-of-friends to match within a relatively short time.
However, if you're someone who has a large population of Facebook friends, this app could be hours of fun and dating for you.
Tastebuds
Here's an interesting idea. Tastebuds is a dating app that uses your taste in music to find compatible partners.
Creating a profile is easy with a clean and simple interface. You can upload Facebook photos and other photos that are not on Facebook.
Once your profile is up and running, you can start to view individual profiles which include songs from artists that other users enjoy.
You can then like a person or pass on them. A nice touch is you can send a song or message to users, even if you haven't yet matched with them.
Some people are also using this app to find friends and concert companions, as well as dates.
One of the criticisms of Tastebuds is that it's very easy to skip a user accidentally. Plus, there is nowhere in the app where you can see all the people you have been matched with unless you have started a message thread with them.
If you love your music, and you enjoy sharing music with others, check out this novel dating app.
Match.com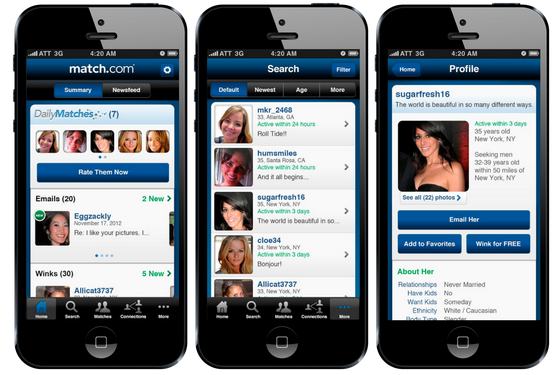 Match.com has dominated the dating scene for many years now, and it was quite a while before they even released an official mobile app.
The way to flirt on match.com is to send someone a "wink". You can search the database of profiles to find people to send a wink.
You will receive a daily update of personalised matches from the site which apparently takes into consideration your preferences and interests.
But the bottom line here is you are going to have to pay for a monthly subscription to make the most of this app. And that can add up and get a little pricey over time.
The signup process is relatively quick, and you can add a few photos, answer some questions, and you're off.
If you're used to Tinder, you're not going to find the interface as easy and user-friendly. However, it's not a very complex app; it just takes a little time to master it.
Happn
I've written previously about the app Happn when it first came onto the scene a number of years ago.
The concept behind Happn is you can find people you've crossed paths within the street, your local neighborhood or workplace.
Like many of the other apps, Happn connects to Facebook to import some of your basic information, pictures and mutual friends of someone you've liked.
You can scroll through the database of people you've crossed paths with, and if you like them, you can send them a "heart". If they send you a heart back, you're matched, and you will both receive a notification.
You also have the option of sending a "charm". This is a way of attempting to connect with someone who has not sent you a "heart". If the receiver of your charm does not send a charm within 24 hours, you get your charm back.
A nice feature of Happn is that it's free for women but for men, you need to pay for sending charms.
A lot of people like the proximity factor of this app which means it's very easy to connect with people in your local area. And their thinking is that you have more in common with someone you keep passing in your local area than someone who lives many hours drive away.
If you keep passing that handsome stranger in the coffee shop but have never spoken, you might want to check if they also happen to be on Happn.

OkCupid
OkCupid has some upsides and downsides. The biggest downside is anyone can message you on this app, although you may see that as an upside.
This app doesn't require Facebook to sign up, so the chance of being contacted by fake profiles is higher.
The upside is you can learn much more about your prospective dates because there is more information that is available than Tinder.
There is quite a comprehensive profile that you can link to your Instagram account, and you answer questions as well as give answers you'd like from a potential match.
But the consensus seems to be that this app is not user-friendly and can be at times quite annoying. For example, you can only see the five most recent visitors to your profile unless you pay for an upgrade.
If you want more flexibility in being able to message people that have not necessarily matched with you or approved you, this app may be more appealing to you.
Coffee Meets Bagel
This app operates from an interesting premise. The idea is once you've created your profile and stated your preferences the app sends you one "bagel" a day. The bagel, in this case, represents a potential match.
You then have 24 hours to decide whether you want to 'like' your bagel or whether you want to 'pass' on your bagel.
This app is similar to Tinder in that if you both like each other you can then message each other in a private chat. The catch here is your chat room will expire after eight days, whether you've been chatting with each other or not. The point here is to put some pressure on you to get chatting, exchange phone numbers or meet in real life.
You can get specific about your preferences including religious beliefs or ethnicity.
A couple of criticisms of this app is that even though you may have very specific preferences, the bagel it sends may not match them, and your match may be some significant distance away.
Some people have also said the app is slow-moving because of the infrequency of actually connecting with someone.
But the idea behind this app is cute, along with the name, so you might want to give it a go and make up your mind.
Bumble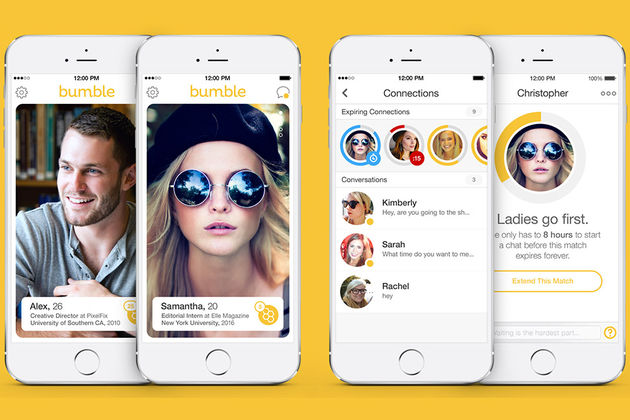 Bumble is a dating app that has been created specifically for women, but it's also to be used by men.
It works in a similar way to Tinder, except that if you're a match, it's up to the woman to initiate the first contact. If you're a woman and don't like to be the one to message first, then this app is probably not for you.
One of the nicer features of this app is it has a strict policy and code of conduct on not sending pornographic or any other inappropriate material so that the app can be a safe place where users respect one another.
Similar to the Coffee and Bagel app, there's a time limit on responding to potential matches – in this case, it's 24 hours. If a guy is keen on a woman, he can request to extend the match by 24 hours. The upside of this is it does encourage users to connect and not let connections fade into the ether.
Another nice feature is the ability to backtrack. Unlike Tinder, where if you swipe the wrong way the connection is lost forever, if you mistakenly swipe left or right too soon on Bumble, just shake your phone, and you can again see the previous profile.
If you're after a fun and safe app that prioritises the needs of women, give this app a go and see what you think.
Grindr
Grindr is an app for gay, bisexual, or straight-but-gay-curious men to meet up with other like-minded men in their local area for sexual encounters, dating or friendship.
The main feature of Grindr is it uses your GPS on your phone to locate the men who are closest to you. Men are displayed on the app in descending order from closest proximity to furthest away.
Grindr has a reputation for being primarily a hook-up app with many of the profiles listing they are looking for NSA (no-strings-attached sex) or discreet meets (often meaning they are in a relationship but having discreet sex on the side without their partner's knowledge).
But there are men on Grindr looking for friendship and long-term relationships. The key is to make sure your profile is very clear about what you're looking for so you attract the right type of men.
Setting up a profile is relatively quick and easy. You need to choose your "Tribe" that describes your type of man and upload a profile pic. It's free to use with ads however it limits the number of profiles you can view within a geographic area on the free version.
Grindr is the most popular gay mobile app community in the world. It's currently available in 192 countries with over 5 million monthly users worldwide.
PlentyOfFish

Plenty of fish is one of the world's most popular and largest free dating apps. It's a free app because it makes its income from over $10 million a year in advertising revenue.
This app has been such a huge success because it is a fully functional online dating site that is entirely free.
PlentyOfFish is also easy to use and only takes a moment to set up your profile and find your next date. You can access and set up your account online or through the app.
A nice feature is that you can make your profile visible under the 'Date Night' section so other members can see you're available for meet up the following week.
While other dating sites may boast that they have sophisticated algorithms to help you connect with compatible people, PlentyOfFish does not do this.
It's up to you to search their database by age, ethnicity, eye colour, location or whatever preference you have. Essentially it's like being out in the Wild West all by yourself.
PlentyOfFish has received criticism for being "the trailer park of the online dating world", however in 2013 they made some changes to try and clean up the site.
Perhaps you need to be the judge about whether the type of people you want to meet are on PlentyOfFish, but as the old saying goes, you get what you pay for.
A note on "Catfishing"
"Catfishing" describes the phenomena of someone being deceptive online and pretending to be someone they are not. No app can completely protect you from Catfishing. Many of these apps do require you to use Facebook to set up your account, which can help reduce the possibility of Catfishing. So if you're worried about being deceived, make sure the app you choose to use requires Facebook to create an account.
Conclusion
As you can see, there is a huge choice of dating apps out there that cater for a wide range of tastes. The most important thing is to choose the app that you're most comfortable with, and that works for you in the long run. And if you start to burn out with online dating, don't be scared to shut down your dating apps, take a break, and meet people in the real world.
Do you need relationship help?
If you need help with your relationship, contact Clinton Power + Associates on (02) 8968 9323 to discuss your situation and find out how we can help.